THE LIBRARY POLKAS!
As National Library Week ends, Tecumseh District Library is celebrating the upcoming Summer Reading Program for Children, "Libraries Rock" with Mike Schneider's interactive Pint Size Polka musical program called "The Library Polkas!" We shall have great fun together on Saturday, April 14th at 5:30 p.m.!





Here is a summary of the program:


Uncle Mike's music will have folks of all ages singing, clapping, and dancing along to such polka-fied classics as the "Chicken Dance," "I've Been Working on the Railroad," and "The Happy Wanderer!"

Uncle Mike's program combines magic, comedy, and education into one high-energy musical package guaranteed to bring a smile to the faces of young and old alike! As a fun play on this summer's "Library Rocks" theme, age-appropriate trivia questions and a special edition of "Name That Tune" will relate back to rocks and stones, from the moon and Neil Armstrong to the theme song from "the Flintstones" TV show.

Plus, one lucky adult will have the chance to participate in a spellbinding version of Oktoberfest's "Stein Holding Contest." Despite their best efforts not to drink the water inside, the water will magically disappear! Pint Size Polkas is tons of fun for the whole family!

This free "Afterhours Program" begins at 5:30 p.m. in Meeting Room A and the back entrance doors will open at 5:15 p.m. We are grateful to the Friends of TDL for sponsoring this one-of-a-kind program!

The Library Polkas! program is designed for families with children in grades Kindergarten through Fifth Grade.

Click HERE to register!

For more information about Mike Schneider, visit his website at www.pintsizepolkas.com.
---
A Free 30-minute program featuring short solo selections
by musicians from the Adrian Symphony Orchestra.
Caryn Sieler, a music and movement specialist
and owner of Lenawee's Heart & Soul,
will be leading the programs with interactive themes
which include rhymes, songs and picture books
that encourage children to sing, clap, move and listen carefully.

A family program designed especially for 50 children
ages 2-years-old to 6-years-old and their caregivers.

"Bass on the Double

and a Bit of Bunny Trouble"

~ Saturday, April 21, 2018 ~

Featured Musicians:

Tim Somers
will be playing his Double Bass
and
Wynne Marsh
will be playing her keyboard.

Featured Book told by Caryn Sieler:


After planting the garden he has dreamed of for years,
Mr. McGreely tries to find a way to keep some persistent bunnies from eating all his vegetables.
THREE different times at THREE locations:

9:30 a.m. at Stair District Library in Morenci (458-6510)
11:30 a.m. at Adrian District Library (265-2265)
1:30 p.m. at Tecumseh District Library (423-2238)
Registration is required for EACH program
at the location you plan to attend due to limited space!

To register for each individual session you wish to attend at TDL,
(Online registrations will receive an automatic confirmation.)
~~~~~~~~~~~~~~~~~~~~~~~~~~~~~~~~~~~~~~~~~~~~~~~~~~~~~~~~~~~~~~~~~~~~~~~~~~~~~~~~
"Music Moves Me" is fully funded through ASO sponsorships,
Art Works-National Endowment for the Arts and
a grant from the Michigan Council for Arts & Cultural Affairs Minigrant program.
It is administered by the Arts Alliance of Ann Arbor.
| | | |
| --- | --- | --- |
| | | |
| | | |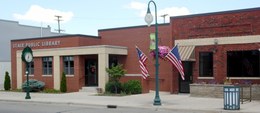 Stair District Library in Morenci
---
2018 All-County Bookmark Contest
Libraries Rock!
Tecumseh District Library (TDL) is participating in the All-County Bookmark Contest sponsored by the Lenawee District Library. The Bookmark Contest is a long-standing tradition at Lenawee District Library and its branches and expanded in 2007 to include independent libraries from throughout the county.
The winning entries from TDL will be entered in the "Best of Lenawee" Bookmark Contest, along with winning entries from other participating libraries in the county from Addison, Adrian, Blissfield, Britton, Clayton, Clinton, Deerfield, Hudson, Morenci, and Onsted, as well as the Lenawee District Library.
Entry Information

Open to students living or attending school in Lenawee County

Official entry forms are available near the Circulation Desk and in the Children's, Tween, and Teen areas or may be downloaded by clicking HERE.

The design must be original. Please do not trace or or copy images or use a computer to create the design.

All entries must be drawn in BLACK &WHITE and submitted on the official entry form - NO COLORS!

Participant's name, personal address, personal phone number, school and grade MUST be complete and readable. Incomplete entries will not be judged.

This year's theme is:
"LIBRARIES ROCK".

The winning entries will be judged on the basis of

originality

neatness

how well the design illustrates the theme

Entries may be turned in at the front Circulation Desk through Saturday, March 31st, at 5 p.m.

Quick Tips

Practice your design first on other sheets of paper.

Completely erase all unwanted pencil marks.

You must use the stated theme.

Make sure that the words in your design can be easily read.

Use your best penmanship!

Selection of Winners

Two winners will be chosen by library staff members from each of the following four grade categories:

Kindergarten, 1st Grade & 2nd Grade

3rd Grade & 4th Grade

5th Grade & 6th Grade

7th Grade through 12th Grade

Winners will be announced on

Monday, April 9th.

The winning entries will be entered into the "Best of Lenawee" Bookmark Contest for a chance to win a

$100.00 gift card.

Recognition

Each of TDL's eight winners will receive

a certificate of achievement,

printed copies of their bookmark,

an invitation to a special Awards Program held in their honor at the Madison School District Performing Arts Center near Adrian on Saturday, April 28th.

A highlight of the Awards Program will be the announcement of the "Best of Lenawee" Bookmarks.
For More Information
For more information, contact Mary Beth Reasoner, Children's Services Librarian, at 423‑2238 or e-mail mbreasoner@tecumsehlibrary.org
---
AFTER SCHOOL HOLIDAY CRAFTS PROGRAMS
FOR THIRD AND FOURTH GRADERS!

Third and Fourth Graders are invited to three After School Make and Take Holiday Craft Programs. Due to popular demand, two identical classes are being offered for each session: You may choose to attend either the Wednesday or the Thursday class of each session. All classes will meet from 4:00 p.m. - 5:00 p.m. in Imagination Station!
Sessions dates will be:

February 7th & 8th - Winter and Valentine's Day Crafts
March 7th & 8th - St. Patrick's Day and Easter Crafts
April 11th & 12th - Mother's Day, Father's Day and Patriotic Crafts
Registration is required!

Call 517-423-2238 or click
HERE
to register for each individual session on the calendar.
---
Designed for 20 children
ages 18 months to 5 years
and their caregivers.
Presented by STORYBOOK ARTVENTURE Guides
Caryn Sieler and Valorie Veld of Lenawee's Heart & Soul, Children's Art and Music Studio

ADVENTURE THROUGH A STORYBOOK AND INTO ART!
Join us on a STORYBOOK ARTVENTURE
where we link literature to art.
We will jump into a great storybook and come out ready to create.
Each child will have the opportunity to make and take home
an art project inspired by the featured story.
TWO MORE FREE SESSIONS WILL BE PRESENTED IN 2018:
Monday Mornings in Meeting Room A
on the library's lower level. (An elevator is available.)

10:30 - 11:00 a.m.
April 23, 2018
May 14, 2018

THEME: NATURE

AIR IS ALL AROUND YOU by Franklyn Branley
I AM WATER by Jean Marzollo
THE SUN, OUR NEAREST STAR by Franklyn Branley
EARTHDANCE by Joanne Ryder
ON THE NIGHT YOU WERE BORN by Nancy Tillman

REGISTRATION has begun!
A Waiting List will be available, if needed.

To register for each session you wish to attend,
call 423-2238 or
click HERE to register for each individual session on the calendar.
(Online registrations will receive a personal confirmation from Mrs. Reasoner.)
~~~~~~~~~~~~~~~~~~~~~~~~~~~~~~~~~~~~~~~~~~~~~~~~~~~~~~~~
Featured Book for our fourth session in March

Summary:
Readers are asked to picture themselves as the earth, turning in space, facing the light, feeling the green things growing and the oceans shifting.
Featured Art Focus for April:
Color a heart-shaped earth map.

~~~~~~~~~~~~~~~~~~~~~~~~~~~~~~~~~~~~~~~~~~~~~~~~~~~~~~~~~~~~~~~~~~~~
STORYBOOK ARTVENTURE GUIDES

Caryn Sieler
Caryn is a music and movement specialist and the owner of Lenawee's Heart & Soul. She will begin each session with a song or chant.

Valorie Veld
Valorie is an early childhood educator and the art teacher/director at Lenawee's Heart & Soul. She will be the storyteller and art project presenter and guide for each session.
For more biographical information, visit their website at www.lenaweesheartandsoul.com
This fourth year of programs is sponsored by a generous, anonymous donor
and coordinated by Mary Beth Reasoner, Children's Librarian
Caryn, Valorie and Mrs. Reasoner all value the important role the arts play
in the lives of young children!
---
The Library of Michigan is pleased to announce the inaugural
"Ready to Read Michigan" book selection I Got the Rhythm
written by Connie Schofield-Morrison
and illustrated by Frank Morrison.

A mother and daughter walk to the park,
with joyous music guiding the action of their walk as everyone
from the butterflies to the vendors join in.

Using onomatopoeia for effect, the rich vibrancy of the music around us is captured in this rhyming book that encourages children to encourage their own self-expression and be physically active too.
MEET THE AUTHOR: Connie Schofield-Morrison

Connie Schofield-Morrison

spent most of her childhood
reading and writing poetry, songs, and fairy tales.
At the age of 19, Connie married her high school sweetheart Frank D. Morrison, a professional dancer.
In 1999 Frank & Connie started their online art gallery, Morrison Graphics, which opened as a physical gallery in 2005 in the Old Fourth Ward of Atlanta, GA.
Frank painted and illustrated, while Connie continued to take care of the business, their home, and their children, while writing children's books in her spare time.
Her debut Bloomsbury Press title, I Got the Rhythm, is her first collaboration with husband and illustrator, Frank Morrison. The book is a rhythmic, soulful affirmation that a dream can become a reality,
a belief that Connie has seen play out in her own life.
See more biographical information at this website.
~~~~~~~~~~~~~~~~~~~~~~~~~~~~~~~~~~~~~~~~~~~~~~~~~~
MEET THE ILLUSTRATOR: Frank Morrison
Growing up in New Jersey, Frank Morrison began developing his own style through 'R.I.P' art scenes that brought him considerable street recognition and local acclaim. But it wasn't until he visited the Louvre Museum in Paris with his dancing group, that he realized painting was his true creative path.

His talent and hard work paid off with over 20 illustrated children's books, including the Coretta Scott King/John Steptoe Award winner, Jazzy Miz Mozetta and the Coretta Scott King Illustrator Honor book, Little Melba and her Big Trombone.
For more examples of his illustrations,
visit this website.



~~~~~~~~~~~~~~~~~~~~~~~~~~~~~~~~~~~~~~~~~~~~~~~~~~~~~~~~~~~~~~~~~~~~~~~~~~~~~~~~~~~~~
The Story of "READY TO READ MICHIGAN"
The Library of Michigan's Ready to Read Michigan program encourages reading aloud regularly to children during the early stages of life (birth up to age 5), as it ensures the development of early literacy skills and instills a love of reading. The program is designed for public librarians to model early literacy skill development directly to families and engage in outreach to early childhood centers, classrooms and daycares throughout their community.
Support
This program is made possible by grant funds
from the U.S. Institute of Museum and Library Services (IMLS) administered by the State of Michigan through the Library of Michigan.
Additional support provided by Bloomsbury Publishing, Consumers Energy
and the Library of Michigan Foundation.

More information about "Ready to Read Michigan!" including materials for parents, teachers and caregivers is available at this link:
2018 Ready to Read Michigan Programming and Resource Guide.
---