Designed for 20 children
ages 18 months to 5 years
and their caregivers.
Presented by STORYBOOK ARTVENTURE Guides
Caryn Sieler and Valorie Veld of Lenawee's Heart & Soul, Children's Art and Music Studio

ADVENTURE THROUGH A STORYBOOK AND INTO ART!
Join us on a STORYBOOK ARTVENTURE
where we link literature to art.
We will jump into a great storybook and come out ready to create.
Each child will have the opportunity to make and take home
an art project inspired by the featured story.
FOUR MORE FREE SESSIONS WILL BE PRESENTED IN 2017:
Monday Mornings in Meeting Room A
on the library's lower level. (An elevator is available.)

10:30 - 11:00 a.m.

THEME: NUMBERS AND COUNTING

April 17, 2017 - INCH BY INCH
by LEO LIONNI

May 15, 2017 - MOUSE COUNT by Ellen Stoll Walsh
June 5, 2017 - HOW BIG IS A MILLION? by Anna Milbourne
(Rescheduled from December 12, 2016 snow storm cancellation)
REGISTRATION Required!
A Waiting List will be available.
To register for each individual session you wish to attend,
call 423-2238 or click HERE.
(Online registrations will receive a personal confirmation from Mrs. Reasoner.)
Featured Book for April

Summary:
A small green inchworm is proud of his skill at measuring anything -
a robin's tail, a flamingo's neck, a toucan's beak.
Then one day a nightingale threatens to eat him if he cannot measure his song.
Children will enjoy the clever inchworm's solution
and delight in finding the tiny hero on every page.

Featured Art Focus for April
TBA

~~~~~~~~~~~~~~~~~~~~~~~~~~~~~~~~~~~~~~~~~~~~~~~~~~~~~~~~~
Featured Book for June
(Rescheduled from December 12, 2016 snow storm cancellation)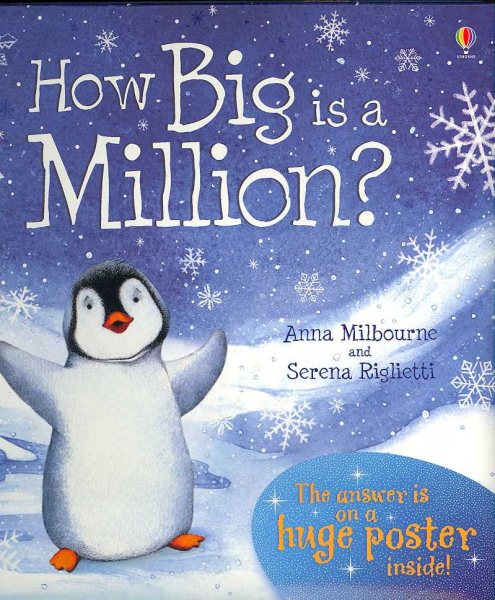 Summary: Pipkin the smallest penguin is always asking questions,
but what he wants to know most of all is how big is a million.

Featured Art Focus for June
Color a penguin and
glue snowflakes and the penguin on blue paper for a winter scene.

~~~~~~~~~~~~~~~~~~~~~~~~~~~~~~~~~~~~~~~~~~~~~~~~~~~~~~~~~~~~~~~~~~~~
STORYBOOK ARTVENTURE GUIDES

Caryn Sieler
Caryn is a music and movement specialist and the owner of Lenawee's Heart & Soul. She will begin each session with a song or chant.

Valorie Veld
Valorie is an early childhood educator and the art teacher/director at Lenawee's Heart & Soul. She will be the storyteller and art project presenter and guide for each session.
For more biographical information, visit their website at www.lenaweesheartandsoul.com
This third year of programs is sponsored by a generous, anonymous donor
and coordinated by Mary Beth Reasoner, Children's Librarian
Caryn, Valorie and Mrs. Reasoner all value the important role the arts play
in the lives of young children!
---
Fall 2016 Story Times
Join Mrs. Reasoner for fun with
Stories, Poems, & Songs
Brochure with more information available at the Circulation Desk
---

Programs are held in Imagination Station located on the main floor of the library in the Children's Section.

Each program begins promptly at 6:45 p.m. and ends at 7:30 p.m.

---

Registration Required

Registration for each Story Time will be limited to 20 children and their adult caregivers.

Registration is full
for November and December!


A Waiting List is available!

Call 423-2238 or click here to sign-up for each individual program you wish to attend!

---

Story Times are designed for three-year-olds through second graders.
Mrs. Reasoner will share both new and classic stories, fingerplays, poems, and songs.

---

Attendance at Library events constitutes consent to be photographed for use in print and/or electronic publicity for the Tecumseh District Library.

Snoozeville
A Pajama Story Time on Tuesday evening, September 27th

Wear your pj's or nightgown, robe, and slippers!

Features bedtime stories, lullabies, and nighttime tales of the moon and stars.

---

Shenanigans
A Halloween Story Time on Tuesday evening, October 25th

Wear your favorite Halloween costume but please leave the masks and props at home!

Features not-too-spooky tales of trick-or-treating, haunted houses, ghosts and creatures of all sorts!

---

Harvest Of Friendship
A Thanksgiving Story Time on Tuesday evening, November 22nd
Registration is full!
A Waiting List is available!

Wear your favorite fall colors! Features cozy tales of friendship and families.

---

A Stockingful of Joy

A Holiday Story Time on Tuesday evening, December 20th
Registration is full!
A Waiting List is available!

Wear your favorite holiday colors! Features stories of Santa Claus & his reindeer and the winter season.

Participation Guidelines

Adults and children eager to listen to stories, sing songs, and recite poems are welcome.

Story Time Classroom Visits - Fall 2016

Tales and tunes for preschools and kindergarten through fourth grade classes are available upon request.

Contact Mrs. Reasoner to schedule her visit full of stories, songs and poetry.
Courtesy Guidelines
The focus of everyone in the room during Story Time is centered on the children and the program.
Thus, all communication devices need to be turned off.
Please feel free to take any children who are restless or disruptive out of Imagination Station until they are ready to rejoin us.I appreciate your cooperation and consideration for the other audience members and myself.
If you don't plan to attend Story Time with your child, please remain in the building!
For your child's sense of well-being, be present outside Imagination Station as Story Time ends, so your child may be picked up promptly.
Your respect for these guidelines enhances my ability to conduct an enjoyable Story Time for the children!
Thank you!
Mrs. Reasoner
Children's Librarian
---
A Free 30-minute program featuring short solo selections
by musicians from the Adrian Symphony Orchestra.
Caryn Sieler, a music and movement specialist
and owner of Lenawee's Heart & Soul,
will be leading the programs with interactive themes
which include rhymes, songs and picture books
that encourage children to sing, clap, move and listen carefully.

A family program designed especially for 50 children
ages 2-years-old to 6-years-old and their caregivers.

Next Program is scheduled for Saturday, April 22nd.
Featured musicians and featured book will be announced this spring.
However, you may register between now and then by calling 423-2238 or click HERE to sign-up online.

Mrs. Reasoner will confirm online registrations promptly.
---
2015 Michigan Reads!
The Library of Michigan is pleased to announce the 2015 Michigan Reads! book is Do Unto Otters written and illustrated by Laurie Keller. In our 2015 book, Mr. Rabbit's new neighbors are otters. OTTERS! But he doesn't know anything about otters. Will they be friends? Will they even get along? Follow Mr. Rabbit as he learns how to be a good friend and neighbor by simply following the Golden Rule.
What would happen if every parent, grandparent or caregiver read the same book to Michigan preschoolers at the same time? We're on a mission to find out! Michigan Reads! was launched in 2004 by the Library of Michigan in partnership with the Michigan Center for the Book to promote the value and benefits of reading early and often to preschoolers; to encourage family bonding through reading; and to increase awareness and usage of Michigan's libraries. Michigan Reads! is a program of the Library of Michigan and the Library of Michigan Foundation, sponsored by Target.
The Michigan Reads! program highlights the importance of reading and sharing books with children, especially toddlers through early elementary school age. It also recognizes the vital role of libraries which provide access to quality books, programs and services to children and families. These resources lay the foundation for reading and school success.

Michigan Reads! raises awareness of the intergenerational nature of literacy and the value of sharing books with children, especially during their critical developmental stage between birth and age 5.

Michigan Reads! promotes early-childhood literacy in Michigan and engages teachers, librarians, caregivers and parents in reading and sharing books with children ages birth to eight.
More information about "Michigan Reads!" including materials for parents, teachers and caregivers is available at www.michigan.gov/michiganreads.

Meet the author and illustrator of Do Unto Otters!
Laurie Keller
I grew up in Muskegon and have always loved to draw, paint and write stories but had no idea then that I could one day have a career doing those things. That all changed when my friend brought me to a student art show at Kendall College of Art and Design. I was so inspired by the students' work and excited to learn that there were career opportunities in the art field. I began taking classes the following fall and graduated several years later with a BFA in Illustration. I got a job as a greeting card illustrator at Hallmark Cards in Kansas City, Missouri. One night, while falling asleep, I thought of an idea for a kids' book. Over the next few weeks I wrote the story and hopped on an airplane to New York City to try to find a publisher. No one seemed interested at the time, but I fell in love with New York so I decided to quit my job, sell my house and move there. Six months later as I was packing my things to move, Christy Ottaviano from Henry Holt and Company, called to tell me that they wanted to publish my story! It was a happy day – one of the happiest in my life. Christy is now my editor and we have a lot of fun working together. I really liked living in New York City but now I live back in the "Mitten State" along Lake Michigan.

See more about my books and illustrations at my website.
---