2017 All-County Bookmark Contest
Tecumseh District Library (TDL) is participating in the All-County Bookmark Contest sponsored by the Lenawee District Library. The Bookmark Contest is a long-standing tradition at Lenawee District Library and its branches and expanded in 2007 to include independent libraries from throughout the county.
The winning entries from TDL will be entered in the "Best of Lenawee" Bookmark Contest, along with winning entries from other participating libraries in the county from Addison, Adrian, Blissfield, Britton, Clayton, Clinton, Deerfield, Hudson, Morenci, and Onsted, as well as the Lenawee District Library.
Entry Information

Official entry forms are available near the Circulation Desk and in the Children's, Tween, and Teen areas or may be downloaded by clicking HERE.

The design must be original. Please do not trace or or copy images or use a computer to create the design.

All entries must be drawn in black and white and submitted on the official entry form - NO COLORS!

Participant's name, personal address, personal phone number, school and grade MUST be complete and clearly printed. Incomplete entries will not be judged.

This year's theme is:
"BUILD A BETTER WORLD".

The winning entries will be judged on the basis of

originality

neatness

how well the design illustrates the theme

Entries may be turned in at the front Circulation Desk through Friday, March 31st, by 5 p.m.

Quick Tips

Practice your design first on other sheets of paper.

Completely erase all unwanted pencil marks.

You must use the stated theme.

Make sure that the words in your design can be easily read.

Use your best penmanship!

Selection of Winners

Two winners will be chosen by library staff members from each of the following four grade categories:

Kindergarten, 1st Grade & 2nd Grade

3rd Grade & 4th Grade

5th Grade & 6th Grade

7th Grade through 12th Grade

Winners will be announced on

Monday, April 10th.

The winning entries will be entered into the "Best of Lenawee" Bookmark Contest for a chance to win a

$100.00 gift card.

Recognition

Each of TDL's eight winners will receive

a certificate of achievement,

printed copies of their bookmark,

an invitation to a special Awards Program held in their honor at the Madison School District Performing Arts Center near Adrian on Saturday, April 29th.

A highlight of the Awards Program will be the announcement of the "Best of Lenawee" Bookmarks.
For More Information
For more information, contact Mary Beth Reasoner, Children's Services Librarian, at 423-2238 or e-mail mbreasoner@tecumsehlibrary.org
---
Spring 2017 Story Times
Join Mrs. Reasoner for fun with
Stories, Poems, & Songs
---

Programs are held in Imagination Station located on the main floor of the library in the Children's Section.

Each program begins promptly at 6:45 p.m. and ends at 7:30 p.m.

---

Registration Required and begins on Monday, March 27th

Registration for each Story Time will be limited to 20 children and their adult caregivers.

Call 423-2238 or click here to sign-up for each individual program you wish to attend!

---

Story Times are designed for three-year-olds through second graders.
Mrs. Reasoner will share both new and classic stories, fingerplays, poems, and songs.

Celebrate Spring!

Tuesday evening, April 11th

Wear your favorite springtime colors!

Mrs. Reasoner has returned from medical leave!
We'll enjoy a smorgabord of stories from
Valentine's Day,
St. Patrick's Day,
and Easter!


~~~~~~~~~~~~~~~~~~~~~~~~~~~~~~~~~~~~~~~~~~~~~~~

Celebrate Colors!

Tuesday evening, May 9th

Wear your favorite primary colors!

Join us for a colorful evening with books
that feature the seven individual
colors of the rainbow!




Participation Guidelines

Adults and children eager to listen to stories, sing songs, and recite poems are welcome.

Story Time Classroom Visits - Spring 2017

Tales and tunes for preschools and kindergarten through fourth grade classes are available upon request.

Contact Mrs. Reasoner to schedule her visit full of stories, songs and poetry.
Courtesy Guidelines
The focus of everyone in the room during Story Time is centered on the children and the program.
Thus, all technical communication devices need to be turned off.
Please feel free to take any children who are restless or disruptive out of Imagination Station until they are ready to rejoin us. I appreciate your cooperation and consideration for the other audience members and myself.
If you don't plan to attend Story Time with your child, please remain in the building!
For your child's sense of well-being, be present outside Imagination Station as Story Time ends, so your child may be picked up promptly.
Your respect for these guidelines enhances my ability to conduct an enjoyable Story Time for the children!
Thank you!
Mrs. Reasoner
Children's Librarian
Attendance at library events constitutes consent to be photographed for use in print and/or electronic publicity for the Tecumseh District Library.
---
Designed for 20 children
ages 18 months to 5 years
and their caregivers.
Presented by STORYBOOK ARTVENTURE Guides
Caryn Sieler and Valorie Veld of Lenawee's Heart & Soul, Children's Art and Music Studio

ADVENTURE THROUGH A STORYBOOK AND INTO ART!
Join us on a STORYBOOK ARTVENTURE
where we link literature to art.
We will jump into a great storybook and come out ready to create.
Each child will have the opportunity to make and take home
an art project inspired by the featured story.
FOUR MORE FREE SESSIONS WILL BE PRESENTED IN 2017:
Monday Mornings in Meeting Room A
on the library's lower level. (An elevator is available.)

10:30 - 11:00 a.m.

THEME: NUMBERS AND COUNTING

April 17, 2017 - INCH BY INCH
by LEO LIONNI

May 15, 2017 - MOUSE COUNT by Ellen Stoll Walsh
June 5, 2017 - HOW BIG IS A MILLION? by Anna Milbourne
(Rescheduled from December 12, 2016 snow storm cancellation)
REGISTRATION Required!
A Waiting List will be available.
To register for each individual session you wish to attend,
call 423-2238 or click HERE.
(Online registrations will receive a personal confirmation from Mrs. Reasoner.)
Featured Book for April

Summary:
A small green inchworm is proud of his skill at measuring anything -
a robin's tail, a flamingo's neck, a toucan's beak.
Then one day a nightingale threatens to eat him if he cannot measure his song.
Children will enjoy the clever inchworm's solution
and delight in finding the tiny hero on every page.

Featured Art Focus for April
TBA

~~~~~~~~~~~~~~~~~~~~~~~~~~~~~~~~~~~~~~~~~~~~~~~~~~~~~~~~~
Featured Book for June
(Rescheduled from December 12, 2016 snow storm cancellation)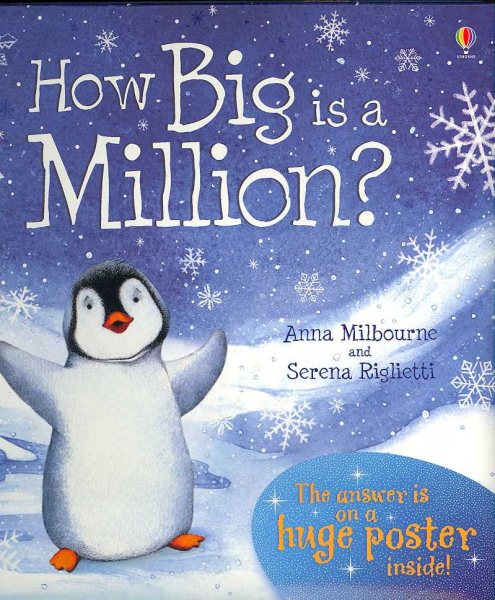 Summary: Pipkin the smallest penguin is always asking questions,
but what he wants to know most of all is how big is a million.

Featured Art Focus for June
Color a penguin and
glue snowflakes and the penguin on blue paper for a winter scene.

~~~~~~~~~~~~~~~~~~~~~~~~~~~~~~~~~~~~~~~~~~~~~~~~~~~~~~~~~~~~~~~~~~~~
STORYBOOK ARTVENTURE GUIDES

Caryn Sieler
Caryn is a music and movement specialist and the owner of Lenawee's Heart & Soul. She will begin each session with a song or chant.

Valorie Veld
Valorie is an early childhood educator and the art teacher/director at Lenawee's Heart & Soul. She will be the storyteller and art project presenter and guide for each session.
For more biographical information, visit their website at www.lenaweesheartandsoul.com
This third year of programs is sponsored by a generous, anonymous donor
and coordinated by Mary Beth Reasoner, Children's Librarian
Caryn, Valorie and Mrs. Reasoner all value the important role the arts play
in the lives of young children!
---
A Free 30-minute program featuring short solo selections
by musicians from the Adrian Symphony Orchestra.
Caryn Sieler, a music and movement specialist
and owner of Lenawee's Heart & Soul,
will be leading the programs with interactive themes
which include rhymes, songs and picture books
that encourage children to sing, clap, move and listen carefully.

A family program designed especially for 50 children
ages 2-years-old to 6-years-old and their caregivers.

"Polka Dots, Wings, and Harp Strings!"

~ Saturday, April 22, 2017 ~

Featured Musicians:

Margot Box
will be playing her harp
and
David Rains
will be playing his keyboard.

Featured Book told by Caryn Sieler:




A lazy ladybug who never learned how to fly
decides she wants to go somewhere,
but she cannot find an animal to give her a peaceful ride.

THREE different times at THREE locations:

9:30 a.m. at Stair District Library in Morenci (458-6510)
11:30 a.m. at Adrian District Library (265-2265)
1:30 p.m. at Tecumseh District Library (423-2238)
Registration is required for EACH program
at the location you plan to attend due to limited space!

To register for each individual session you wish to attend at TDL,
(Online registrations will receive a personal confirmation from Mrs. Reasoner.)
~~~~~~~~~~~~~~~~~~~~~~~~~~~~~~~~~~~~~~~~~~~~~~~~~~~~~~~~~~~~~~~~~~~~~~~~~~~~~~~~
"Music Moves Me" is fully funded through ASO sponsorships,
Art Works-National Endowment for the Arts and
a grant from the Michigan Council for Arts & Cultural Affairs Minigrant program.
It is administered by the Arts Alliance of Ann Arbor.
| | | |
| --- | --- | --- |
| | | |
| | | |
---