---
---
---
---

Title: The Prince and the Dressmaker
Author: Jen Wang
Call Number: GN WAN
Reviewer: Amanda Fields

This is a charming story about a seamstress who dreams of being a world-renowned fashion designer and a prince who wants to gain a bit of freedom from his royal obligations by wearing beautiful dresses as the Lady Crystallia. The artwork is so colorful and really brings the stunning fashion designs to life. I keep picking this book up whenever I want a fun, heart-warming story.
---
Spirits haunt the flooded streets of New Orleans in the aftermath of Hurricane Katrina. In a parallel universe, a utopian society watches our world, trying to learn from our mistakes. A black mother in the Jim Crow South must save her daughter from a fey offering impossible promises. And in the Hugo award-nominated short story "The City Born Great," a young street kid fights to give birth to an old metropolis's soul. This short story collection from three-time Hugo Award winner N.K. Jemisin explores worlds filled with magic and, like all good speculative fiction, asks us to question the essence of our world and the nature of humanity. This collection features worlds and experiences that are alien, frightening, strange, and awe-inspiring but also in many ways familiar, diverse, resilient, and full of hope. I recommend this collection to anyone that enjoyed her award-winning Broken Earth trilogy (the story "Stone Eater" will be familiar), fans of sci-fi and fantasy, and anyone who loves stories that stick with them for weeks afterwards.
---
---
---
---
There is a distinct hint of Armageddon in the air. But a somewhat fussy angel and a fast-living demon - each of whom has lived among Earth's mortals and grown rather fond of the lifestyle - are not looking forward to the coming Rapture. If Crowley and Aziraphale are going to stop it from happening, they've got to find and kill the Antichrist (which is a shame, as he's a really nice kid). There's just one glitch: someone seems to have misplaced him. I recommend this book to anyone who enjoys humor and is interested in mythology (or anyone who enjoyed the recent Amazon adaptation). This collaboration brings out the best of both Pratchett's whimsical but cutting social commentary and Gaiman's beautifully weird aesthetic.
---
We now own the L.A. Theatre Works Production of this beloved classic. This is a delightful full-cast audio production with Julian Sands (he starred in the original movie) and Elinor Tomlinson (currently starring in Poldark, Season 5 on PBS) among others.
You can indulge in a little bit of "A Room with a View" binging by listening to the theatre production, reading the book and afterwards watching the movie. TDL owns all formats.
---
Guest Review from patron Jan Salsberry!
Michigan Mysteries
OLIVER THE READER
If you are looking for a good read, pick up any of the mystery books by Aaron Stander. Mr. Stander is originally from the Detroit area but he and his wife retired from the teaching profession and moved to a cottage near Traverse City. This is where nine of his ten mysteries are located. With titles like "Color Tour", "Summer People", "Deer Season" and "The Cruelest Month", the reader gets a sensory picture of living in Northwest lower Michigan on the Big Lake. The protagonist is Sheriff Ray Elkins who has returned to serve as Sheriff of Cedar County, Michigan. He is familiar with this area and its people. He kayaks on Lake Michigan and goes on runs to Zingermans in Ann Arbor when he has a day off (or one of his deputies has to go South). If you have spent any time in the Traverse City area, these mysteries will draw you in with their vivid descriptions of the colors and the scents of fall in Michigan as well as the snowfall, the dunes and the power of a Lake Michigan storm. And, besides vivid descriptions, Mr. Stander writes a darn good mystery. Try one, you might just get hooked.
These books are available at the Tecumseh District Library. Find them using call number X FIC STA. Aaron Stander is also the host of Michigan Writers on the Air on Interlocken Public Radio.
---
---
---
---
---
---
---
---
---
---
Alice de Janze (1899 - 1941) was an American heiress and socialite. After marrying into French aristocracy she emigrates to Kenia. She settles near the Wanjohi River and among her neighbors are Karen Blixen, Dennis Finch Hatton and Berryl Markham, just to name a few. After divorcing her husband she falls in love with Josslyn, 22nd Earl Errol who is found shot one morning. His murder remains unsolved until today. Before marrying her second husband, Raymund de Trafford, she shoots him in the chest, but is only fined a small amount of money (F. Scott Fitzgerald used the widely reported incident for his novel "Tender is the night"). De Trafford marries her, only to divorce her a few months later. She returns to Kenia where she dies in 1941.
This was a very fascinating biography. The author - whose relatives were actually very well acquainted with Alice - writes so vividly about her life and the conditions in colonial Africa that I could not put this book down. It is a biography, a murder mystery and a historical account of British colonialism.
Other readings on this subject:
West with the Night
by Berryl Markham
White Mischief: The Murder of Lord Erroll
by James Fox
Out of Africa
by Karen Blixen
Too Close To The Sun: The audacious life and times of Denys Finch Hatton
by Sara Wheeler
---
---
---
---
---
---
---
---
---
---
---
---
---
---
---
Annalee Ahlberg is a sleepwalker. She does not return home one night after getting up from her bed leaving her family bereft and with a lot of questions. What happened when Annalee's husband left town for a conference and Annelee disappeared? And what interest does Detective Rikert have sticking around the Ahlberg's long after Annalee's body has been found.
Chris Bohjalian delivered another breathtaking mystery in the fashion of "The Guestroom" and "Secrets of Eden". Meticulously researched and thrillingly narrated the author feeds his reader just enough information in each chapter that the urge to read faster and faster almost becomes unbearable. And of course the bombshell explodes on the very last page. So my only warning for this book is: Don't start it unless you have a few hours to spare. You won't be able to put it down.
---
---
Once again Harvard professor of symbology, Robert Langdon finds himself on a harrowing adventure to save the world. This time his journey takes him into the heart of Italy and deep into Dante's tale
The Inferno.
Time is running out and Langdon must decide whom to trust as the fate of the humanity itself hangs in the balance.
This book starts out in the middle of the night with Robert Langdon in the hospital having suffered a head wound and having absolutely no recollection of the past 36 hours, including how he got there! If you've read the other books in the Robert Langdon series, then you know how much he relies on his memory of events to put together the complex puzzles surrounding him. To have him wake up without his memory and have no idea or of what is going on is quite the change. This book, and Langdon, hit the ground running from the very first pages. He makes allies and enemies as he races across the globe to decipher clues tied in with the master literary work
The Inferno.
Friends aren't always friends, enemies aren't want they seem, and the twists just keep coming. I absolutely loved this book. I saw that the movie was coming out so I knew it was time to finally read it. I only had one question: Why on earth did I wait so long to pick up this book? What a thrill ride! Obviously, I highly recommend this novel. You don't have to read the other books in the series to understand it, but they do provide back information on the character and his previous exploits.
---
---
---
The Second Life of Nick Mason
, Hamilton's first entry in a new series, is a high-octane novel about Nick Mason, an ex-con, trying to break away from his criminal past. Because of an arrangement with a Chicago crime lord, he's been released early from prison. But because of that favor, Nick finds himself forced to commit increasingly more dangerous crimes while being pursued by the detective responsible for putting him behind bars. Fans of Hamilton's Alex McNight series will not be disappointed with this exciting novel.

The rights to this book have been sold to Lionsgate Productions. Look forward to seeing the movie sometime in the near future; but read the book first!
---
---
---
---
---
You can tell I love this series because I am giving you summaries of all five books! The author is a modern day Beverly Cleary who remembers what it is like to be a second grader and a fourth grader! She also remembers the love/hate relationships between siblings as well as the ups and downs of friendships with classmates and neighborhood friends.
The Lemonade War
tells the story of an exciting summer spent by a loving but competitive pair of siblings, Evan and Jessie Treski. At the end of the summer, Jessie, the younger and more academically inclined of the two, is delighted to learn that because she is skipping third grade, she will be in Evan's fourth-grade class when school starts in a few days. To say the least, Evan is less than thrilled. The children's personal conflict becomes a professional one as well, as they set out to
outsell each other at their respective lemonade stands.
The Lemonade War
Fourth-grader Evan Treski is people-smart. He's good at to talking with people, even grownups. His younger sister, Jessie, on the other hand, is math-smart, but not especially good with people. So when the siblings' lemonade stand war begins, there really is no telling who will win --- or even if their fight will ever end. Brimming with savvy marketing tips for making money at any business, definitions of business terms, charts, diagrams and even math problems, this fresh, funny, emotionally charged novel subtly explores how arguments can escalate beyond anyone's intent.
The Lemonade Crime
Following the laws of our legal system, Evan and Jessie's fourth grade class concocts a courtroom on the playground, putting Scott Spencer, alleged thief, on trial. They create a legitimate courtroom --- with a judge, witnesses, a jury of their peers --- and surprising consequences.
The Bell Bandit
Someone had climbed the long, slow slope of Lovell Hill to the top and had stolen the old iron bell hanging on its heavy wooden crossbeam. Who on earth would steal the New Year's Bell? And how could Grandma, Mrs. Treski, Evan, Jessie, and their neighbors ring in the New Year without it?
The Candy Smash
Jessie and Evan Treski have waged a lemonade war, sought justice in a class trial, and even unmasked a bell thief. Now they are at opposite ends over the right to keep secrets. Evan believes some things (such as his poetry) are private. Jessie believes scandal makes good news. When anonymously sent candy hearts appear in Class 4-0, self-appointed ace reporter Jessie determines to get the scoop on class crushes.
The Magic Trap
Jessie and Evan Treski have waged a lemonade war, sought justice in a class trial,unmasked a bell thief, and stood at opposite ends over the right to keep secrets. Now they are creating a magic show—a professional magic show, in their own backyard! They practice, they study, and they practice some more. And who shows up? Their father, who has done such a good job of disappearing over the past few years.
---
---
---

Summary: In 1973, a spiritual awakening captured the heart of nearly every player of the Woodlawn High School football team, including its coach Tandy Gerelds. Their dedication to love and unity in a school filled with racism and hate leads to the largest high school football game ever played in the torn city of Birmingham, Alabama, and the rise of its first African-American superstar, Tony Nathan.

As a football fan who enjoys a story with an inspirational message, I would recommend this action-packed movie filled with historical references and suspense to any sports enthusiast.
---
Sweet Girl: A Novel
by Travis Mulhauser
Call#: CD-FIC MUL
Reviewed by Anne Keller
The setting is northern Michigan in the middle of a harsh winter storm. Percy Jackson, 16, is on a mission to locate her drug addicted mother out on another bender. Her mother, Carletta, has been addicted to meth for as long as Percy can remember. Her older sister married and moved out west leaving Percy to take care of her mother all alone. During her search, she finds a cabin with a neglected baby whose parents are strung out on meth. Percy takes the baby, to save the baby. She heads to Portis Dale's house, Carletta's ex and her surrogate father. Portis and Percy are determined to get the baby to safety, despite the violence of the storm and trackers out to return the baby to the neglectful parents. Percy's immediate bond with the baby fuels her determination to save the baby no matter the tragic outcome. The rural landscape and wide open land adds to the harsh elements as they try to rescue the baby.
The setting of the novel is bleak and isolating which adds a bit of ambiance to the novel making the reader root for Percy despite all the odds. If you're looking for a novel with a determined and admirable main character, a harsh landscape of isolation and cold, an adventure to right a wrong despite tragic circumstances, then I highly recommend this novel. Fans of Winter's Bone will enjoy this novel.
---
Raising Ryland by Hillary Whittington
Reviewed by Anne Keller
The Whittington family seems like your typical all American family. The dad is a well respected fireman. The stay at home mom is raising two children trying to make ends meet like a lot of other young families. They learned the news that their youngest daughter Ryland was deaf at age one. For four years, they navigate the waters of the deaf community in order to best treat their daughter. They teach her sign language and finally she is able to get cochlear implants. After four years, their daughter can speak. They were shocked when Ryland told them "I am a boy."
---
Oh my gosh! Oh my GOSH! J.K. Rowling wrote another Harry Potter book!
Well, not exactly. "Harry Potter and the Cursed Child" is a Broadway stage play
based
on a short story written by J.K. Rowling, Jack Thorne, and John Tiffany, and it was written into play format by Jack Thorne. So right off the bat you have a three author collaboration. The book's play format i.e. scene, act, character speaking, etc. may throw off some readers.
The play begins 19 years after the end of "Harry Potter and the Deathly Hollows" and we pick up again with our beloved characters and their children. The story focuses mostly on Harry's middle child, a boy named Albus Severus and his attempts to live up to (or hide from) his famous father's name.
I found the play to be a very fast read and it never lacked for action. I think some readers may be distraught by some of their favorite characters acting a bit like short tempered grown-ups versus the adolescents we grew to love. Albus goes out of his way to find trouble and often leads his best (and only) friend Scorpius Mallfoy into the line of fire. Scorpius was the character you went in judging but he quite immediately stole your heart. Overall, I would recommend this book to everyone. Exceptions must be made for the format so you don't get as much detail as you desperately want, but the story is solid and keeps you entertained to the end.
Multiple copies are available in the Juvenile section under J FIC ROW. Look for it on the shelf with the other Harry Potter books.
---
---
Series Title: MARIELLA MYSTERY INVESTIGATES
Author: Kate Pankhurst
Call #: J FIC PAN
Reviewer: Mary Beth Reasoner, Children's Librarian

This series is about a girl whose name is "Mariella Mystery"
and she is a detective along with her friends "the Mystery Girls"!
Mariella is smart as a whip, super sleuth-y, and able to solve most mysterious mysteries and perplexing problems in no time flat. She is age nine and a bit, and knows that all good detectives write down important information about their investigations. She keeps a top-secret journal filled with important clues and observations, helpful drawings, and handy tips for new detectives. There are illustrations on every page and the book is full of a lot of humor. I can't wait to read Mariella Mystery investigates the Huge Hair Scare in which the mysterious Bad Hair Day Fog starts giving people of all ages ugly hair!
#1 = The Ghostly Guinea Pig
#2 = A Cupcake Conundrum
#3 = The Huge Hair Scare
#4 = The Mystery of the Cursed Poodle
#5 = The Spaghetti Yeti
#6 = A Kitty Calamity
#7 = The Disappearance of Diana Dumpling

---
---
---
The Marriage of Opposites is a woeful tale of the conflict between personal desire and social constraints that echoes through three generations on the island of St. Thomas in the first half of the 19th century.
Like her most recent novels, this story is grounded in historical events and assiduous research, but Hoffman goes even further
by taking real-life figures as her protagonists. Staying close to the known facts about the artist Camille Pissarro and his parents, she imagines their interior lives and surrounds them with fully developed supporting cast of characters. I thoroughly enjoyed this book! Alice Hoffman's latest book is recommended for fans of Circling the Sun by McClain and Under the Wide and Starry Sky by Horan.
---
---
---
This book is simply a delight. It is full of wonderful stories about the movie, the actors and all the adventures that happened during filming, such as an unseasonably cold summer in Austria or accessive weight gain on the part of the actors due to the delicious Austrian pastries. After reading this book, watching the movie is so much more fun.
---
Title: Our Souls at Night
Author: Kent Haruf
Call No.: Fic/Har
Reviewer: Gayle Hazelbaker
The June 2015 issue of the BookPage described the plot of this poignant book like this, ..."Addie and Louis are old neighbors, both widowed, children grown and gone, both lonely but used to it. Addie asks Louis if he'd like to sleep with her. Just sleep, that's all, to keep her company, and maybe talk about things, too. Louis agrees. It becomes an amazing tie, full of unexpected grace, a chance to go back with each other over their ordinary and extraordinary lives. Their pact binds others to them as well—an ancient neighbor, the troubled grandson of a broken home and a sweet dog from the county pound.
Townsfolk and family members don't much like the idea of Addie and Louis sleeping together. This happiness, arrived so late, is a scandal to those others."
What happens to these two people is sweet and heartbreaking. This is the last book written by Haruf before he died. What a beautiful insightful legacy he has left his readers. Don't miss this!
---
Title: The Persian Pickle Club
Author: Sandra Dallas
Call No.: Fic/Dal
Reviewer: Gayle Hazelbaker
It is the 1930s, and hard times have hit Harveyville, Kansas, where the crops are burning up and there's not a job to be found. For Queenie Bean, a young farm wife, a highlight of each week is the gathering of the Persian Pickle Club, a group of local ladies dedicated to improving their minds, exchanging gossip, and putting their quilting skills to good use. When a new member of the club stirs up a dark secret, the women must band together to support and protect one another. This book was funny, sweet and suspenseful. I enjoyed it very much. Highly recommended.
---
Title: Half Wild
Author: Sally Green
Call Number: Y FIC GRE
Reviewer: Megan Rapp-Frye
Nathan has finally escaped his captors who trained him to kill his father Marcus; the most powerful and feared Black witch to ever live. He dreams of living a quiet life with Annalise, the White witch he loves, but that is not meant to be. She's wasting away under a death-sleep induced by a dark curse, and his best friend Gabriel is missing. Nathan has finally come into his Gift, but he finds himself unable to control it. The council of White witches and their hunters are continuously on his trail, so he's always on the run. His only hope for survival is to reunite with old friends, new friends and old enemies to form an Alliance and take down the now corrupt council of White witches. The Alliance needs Nathan to fight with them. The council needs to see him dead. Both sides want him to kill. What's a Half Code to do?
The power balance of the entire world is about to shift and Nathan is right at the center of it. Once again White isn't always good, Black isn't always evil and the line between the two often blurs. Allegiances shift, truths come to light and things aren't always as they seem. This was an amazing book full of twists, turns and action. Besides the fight for survival is the fight for Nathan's heart with two very different contenders. This book is highly recommended. Half Wild is book two in a planned trilogy.
---
Title: The extraordinary journey of the fakir who got trapped in an IKEA wardrobe
Author: Romain Puertolas
Call No: FIC PUE (Currently on the New Shelf)
Reviewer: Sonja Downey
This is the story of Ajatashatru (pronounced: just about every way you like), an Indian fakir and con artist who flies to Paris to buy a brand new bed of nails which happens to be on sale at the local IKEA store. Unfortunately by the time he gets there the sale is over, he is 20 Euros short and things are going straight downhill from there. As the title suggests he gets trapped in an IKEA wardrobe (apart from other means of transport, such as Louis Vuitton suitcases, etc.) and his journey leads him to England, Spain and Italy and even further than that. He meets famous French actresses, real-life knife wielding gypsies and the love of his life.
This book is hilarious, thought-provoking and just plain fun to read. I can highly recommend it to anyone who wants to get away for an afternoon on a farcical journey through Europe.
---
---
Title: We Were Liars
Author: E. Lockhart
Call No.: Y Fic Loc
Reviewer: Gayle Hazelbaker
---
This memoir opens with the line, "If you were not able to attend my twentieth birthday party, you missed a fabulous cake...And if, by chance, you were able to attend my twentieth birthday party, you too, missed a fabulous cake." Party attendees would have missed the cake because the author ate the whole cake. MItchell's memoir explores her weight loss journey and her struggles to lose weight. She chronicles her weight from early childhood through college. At her highest, she weighed 268 lbs. She goes on to lose 135 pounds through diet and exercise. Her memoir is open and honest as she describes her reasons for overeating, her binges, the bullying and even the ongoing struggle to maintain her weight. If you like her book, check out her blog "Can You Stay for Dinner?"
---
Jenna Metcalf, 13, has never stopped wondering what happened to her mother who mysteriously disappeared during a tragic accident more than ten years ago. Jenna refuses to believe that her mother abandoned her and begins her search for the truth. She enlists the help of a retired police detective familiar with the case and a once famous psychic known for her ability to locate missing people. Jenna's mother studied elephants and worked at an elephant sanctuary during her disappearance. Picoult weaves factual information regarding elephants and their grief process into the novel. The novel is told from different viewpoints and even that didn't prepare me for the shocking story line surprise near the end. While some people may be able to guess the plot twist, this reader didn't even see it coming.
---
Title: The Magician's Lie
Author: Greer Macallister
Call No: Fic/Mac
Reviewer: Gayle Hazelbaker
The Amazing Arden is the most famous female illusionist of her day, renowned for her incredible trick of sawing a man in half onstage. One night in Waterloo, Iowa, with young policeman, Virgil Holt watching for the audience, she swaps her trademark saw for a fire ax. Is it a new version of the illusion, or an all-too-real murder? When Arden's husband is found dead beneath the stage later that night, the answer seems clear. But when she is taken into custody, she has a very different story to tell. Over the course of one eerie night, the magician tells her story. This debut novel was a suspenseful pageturner. I highly recommend this compelling story.
---
---
Title: Elvis & Ginger
Author: Ginger Alden
Call #: 921 ALD
Reviewer: Sonja Downey
This is the account of Ginger Alden's nine month relationship with Elvis. Ms. Alden grants us a very personal glimpse into Graceland and Elvis' private life. As a life-long admirer of Elvis and his music I was excited to read about the author's life with Elvis, but at times her accounts were so detailed, that the writing became very repetitive and somewhat tedious to read. Overall, the book was a nice quick read and a good excuse to log onto youtube and watch a few Elvis concerts.
---
---
Reviewer: Gayle Hazelbaker
---
---
---
This is the story about the author's second bike trip across the United States. It is a very honest account of his trials and tribulations of undertaking such an endeavor but also about the people he meets and how exhilarating it is to succeed.
I love to read about long distance hiking or biking, about all the different places and people. The author did a lovely job describing all the places along his route. It almost felt like the reader was part of the trip.
If you like books about long distance trails, here are some more suggestions:
---
---
---
---
Reviewer: Gayle Hazelbaker
---
---
Title: The Lincoln myth: a novel
Author: Steve Berry
Call #: FIC BER (Currently on the New Fiction Shelf)
Reviewer: Gina Walmsley
September 1861: All is not as it seems. With these cryptic words, a shocking secret passed down from president to president comes to rest in the hands of Abraham Lincoln. And as the first bloody clashes of the Civil War unfold, Lincoln alone must decide how best to use this volatile knowledge.
Present Day: In Utah, the fabled remains of Mormon pioneers have been uncovered. In Washington, D.C., an investigation of an international entrepreneur, an elder in the Mormon church, has sparked a political battle between the White House and a powerful United States senator. In Denmark, a Justice Department agent has disappeared. With one phone call from his former boss, Cotton Malone is on hunt for the agent.
From the streets of Copenhagen to the catacombs of Salzburg to the rugged mountains of Utah, Malone risks life, liberty, and his greatest love in a race for the truth about Abraham Lincoln--while the fate of the United States of America hangs in the balance.
I was not disappointed with another wonderful tale starring Cotton Malone. Berry throws just enough historical facts to enhance the story without overwhelming the reader. The story is faced paced with beautiful descriptions of places around the world. Even though this is a fiction book, the author does make this reader think....events could have happened this way.
---
Title: Tease
Author: Amanda Maciel
Call #: Y FIC MAC
Reviewer: Anne Keller
Who is responsible when a bullied teen commits suicide? Sara and her friends find themselves embroiled in a legal nightmare after new classmate Emma hangs herself following months of their ruthless harassment. In Sara's mind, Emma was at fault, she stole Sara's boyfriend, so retaliation was fair game, and suicide was an unwarranted overreaction.
Sara narrates the novel in chapters that alternate between the present and the two months leading up to Emma's death. Readers are bound to hate Sara from the very beginning as she shows no remorse for tormenting Emma. After the suicide, the bully becomes the bullied, and Sara finds herself being made fun of and ignored
The novel is unique in that the narrator is the bully. This ripped from the headlines novel is similar to the 2010 bullying and suicide of Massachusetts teen Phoebe Prince. The novel is bound to open a debate on who is to blame.
---
Title: Secret Side of Empty
Author: Maria Andreu
Cal #: Y FIC AND
Reviewer: Anne Keller
M.T. is not what her wealthy, suburbanite friends think of as an immigrant. She has pale skin and blondish hair, she's an overachieving student in the NHS. But M.T. is hiding a secret. M.T. is undocumented, brought to the US from Argentina by her parents when she was a child. The family lives in constant fear that they will be discovered and deported, sent back to a country M.T. barely remembers. As senior year progresses, and her friends make plans beyond high school, M.T. feels she has no future. She can't get a driver's license, or a legal job, and college seems an impossible dream. The things that bring her joy, academics, friendships and first love, turn to reminders of a life just out of reach.
The author draws from personal experiences and readers will root for M.T. to succeed. Immigration is a hot topic in the United States. One side argues that illegal immigrants should be deported while the other side says that they have settled here with family and friends and lead productive lives that contribute to society. M.T. offers a different point of view as a child who had no say in being brought to the U.S. She is illegal, but is it fair to punish her for the actions of others?
---
Title: The weight of blood: a novel
Author: Laura McHugh
Call #: FIC MCH (Currently on the New Book Shelf)
Reviewed by: Gina Walmsley
This book takes place deep in the Ozark Mountain town of Henbane and focuses on 16-year-old Lucy Dane. Lucy's mother vanished one day when Lucy was small and inspired a local legend around town. Lucy befriends her next door neighbor Cheri and when Cheri goes missing and is later found murdered, Lucy questions what really happened to her mother. As Lucy investigates her mother's disappearance, she uncovers things about her own family. In a town where the bonds of blood weigh heavy, Lucy must decide where her allegiances lie.
I really enjoyed this novel. There were enough twists and turns throughout the story to keep me guessing. There are some dark themes in this novel and the discovery of Cheri's murder is quite graphic, so it might not be for everyone. The author's description of the Ozarks and town made me at time able to envision myself in the location. This was the author's first novel and I think she did a great job in the telling of Lucy's story.
---
Title: I'm Off Then
Author: Hape Kerkeling
Call #: 914.6 KER
Reviewer: Sonja Downey
---
Title: At least in the city someone would hear me scream
Author: Wade Rouse
Call #: 921 ROU
Reviewer: Sonja Downey
---
Title: This Side of Salvation
Author: Jeri Smith-Ready
Call # Y FIC SMI
Reviewer: Anne Keller
The Rapture will occur on May 11th at 3 a.m. David 16, and his older sister Mara, mourned over the military death of their brother who died. People cope with death in different ways and David and Mara's parents turned to their faith. Their parents shifted their religious beliefs in high gear as they cope with their son's death. Their father begins speaking entirely in biblical quotes and try to persuade their children to join them in their faith.
Their parents are convinced the Rapture will occur on May 11th at 3 a.m. which happens to be the same date as David and Mara's prom. On that night, they stay out way past curfew and arrive home at 4 a.m. They expect their parents to be up waiting for them. They expect to be grounded. For the rest of their lives. What they hadn't expected was to find their house empty. They call their father's cell phone and it rings inside the house. Upon closer inspection, they discover their parent's pajamas laid out on their bed as if they simply disappeared. Did the Rapture actually happen? Were they kidnapped? Or worse, a murder suicide? David and Mara rush to find out what actually happened to their parents and wonder if they'll ever see them again.
Each chapter portrays a different time period. Alternating chapters portray the time period leading up to May 11th and the other chapters are present day. A suspenseful read that gives an eye opening look at the limits, uses and misuses of faith.
---
Title: Uninvited
Author: Sophie Jordan
Call Number: Y FIC JOR
Reviewer: Megan Rapp-Frye
Davy has it all. The perfect boyfriend, the best friends, popularity, and a full ride to the school of her dreams: Julliard. A musical prodigy since the age of three, her life is a dream. Until she test positive for HTS: Homicidal Tendency Syndrome. Suddenly Davy finds herself "Uninvited." She can no longer attend her prestigious private school, her friends disappear, the perfect boyfriend decides to walk away, and Julliard says 'no thanks!' Davy is transferred to a public school and placed in a special class with other "carriers" where she is treated like the killer she will one day supposedly become. Carriers are feared and hated and Davy finds out the world isn't nearly the sparkling place she's always believed. The only person who seems to understand her is another carrier named Sean, a boy who's from the wrong side of town and has been, literally, branded as 'extremely dangerous' since he was a child. He tells her that only she can control her actions--not her DNA. But soon the carriers are rounded up and put in camps and Davy is forced to make the ultimate choice: Become the killer they expect her to be or lose the one boy who has come to mean everything to her.


The author paints a vivid picture of a dystopian society where violence is eliminated and controlled by a simple test. HTS carriers are, after all, vicious people who are going to be criminals and killers, so why not treat them as such? The problem is Davy, a pampered princess who is living the dream until it's all ripped away. Davy isn't like the others, but what are the others really like? In a society where you are judged by your genes, not your merits, the system isn't perfect like they lead you to believe. She learns that true friends come from all walks of life and true love doesn't always come from where you expect. This book is somewhat scary because you can see this coming to pass if we sit back and let it. This book is highly recommended. First book of a possible trilogy. The sequel is already in the works.
---

Title: Half Bad
Author: Sally Green
Call number: Y FIC GRE
Reviewer: Megan Rapp-Frye
The place is modern day England and witches live alongside humans. White witches are good. Black witches are evil. Sixteen year old Nathan happens to be half and half. His mother was a powerful white witch and his father is the world's most infamous black witch. Nathan has been persecuted his whole life; caged, chained, and beaten. Before he turns seventeen he needs to escape and receive three gifts from a member of his bloodline to turn him into a full witch and awaken his abilities. His only hope lies with his father, but how can he get to him when he's being tracked and can trust no one? Not even the girl he loves; who just happens to be a white witch from the purest, oldest bloodline. The same family/bloodline who wants Nathan to kill his father; willingly or not.
Nothing is black or white, not even for Nathan. Those who are supposed to help him often don't and those who are supposed to be evil tend to lend him a hand. This story is, above all, about a boy who has an indomitable will to survive and overcome any obstacle by sheer force of will. Nathan keeps going long after you expect him to give up and he maintains the hope that someday things will get better. He has half siblings who love him, a half sibling who hates him, and he finds friends in the strangest of places. In a world where being a White witch is good, and being a Black witch is evil, you learn that nothing is ever so clear. A nice new idea for young adult fiction. This book is highly recommended. This is the first book in a planned trilogy.
---
Reviewer: Gayle Hazelbaker
---
Reviewer: Gayle Hazelbaker
---
Reviewer: Gayle Hazelbaker
In this debut novel, Dominika Egorova is drafted against her will to serve in the Russian Intelligence service. Although, she is smart and strong, the higher ups hold true to the old stereotypes of women spies and send her to 'Sparrow' school to learn to be a seductress. Under the rule of Vladimir Putin she engages in a charged effort of deception and tradecraft with first-tour CIA officer Nathaniel Nash before a forbidden attraction threatens their careers. Author Matthews is a retired member of the US intelligence service and fills this suspenseful tale with details only an insider would know. I devoured this exciting page-turner in record time. I'm keeping my fingers crossed that a sequel is in the works.
---
After her father-in-law's Ponzi scheme was discovered, Stephanie Madoff Mack has to learn to live with a new kind of reality. Her husband Mark can't cope with the increasing pressure of investigations and media coverage and commits suicide. With immense courage Stephanie sets out to find a way to raise her two small children in a world that will never let them forget their grandfather's crime.
The audio book is read by the author and thus makes the whole story even more personal to listen to. At times overcome by the events, the author tells her story with great honesty. This book is available as ebook and e-audio book on Overdrive. The ebook catalog can be accessed via our website www.tecumsehlibrary.org
---
---
There's so many things in this book to love. Becky, her romance with the Prince and her best friend Rochere may even steal the show. Be forewarned, the girls have mouths like sailors so there is a lot of swearing. That aside, it somehow makes the story more believable given their background. If you read one teen book this year, make it this one!
---
Author: Gary Paulsen
Reviewer: Mary Beth Reasoner, Children's Services Librarian
I loved this Tween novel!
Here's a summary:
Fourteen-year-old John Barron is asked, like his father and grandfather before him, to spend the summer taking care of their sheep in the haymeadow. Six thousand sheep. John will be alone, except for two horses, four dogs, and all those sheep. John doesn't feel up to the task, but he hopes that if he can accomplish it, he will finally please his father. But John finds that the adage "things just happen to sheep" is true when the river floods, coyotes attack, and one dog's feet get cut. Through it all, he must rely on his own resourcefulness, ingenuity, and talents to survive this summer in the haymeadow.
---
Title: From Notting Hill with Love... Actually
Scarlet has one love in her life and that's movies - well and maybe her fiance David, although that needs some major reflecting. To do so Scarlet agrees to go house sitting for a rich couple in Notting Hill. After a few mishaps she finally arrives at the beautiful mansion and stumbles head on into her very own movie, starring herself, her lovely neighbor Sean and an array of colorful characters who turn every page into a delight.
This was a light-hearted, fun summer read. The author managed to name just about every romantic movie ever made and tied in a few famous actors too. If you are looking for a quick, fun book for those wonderful late summer weekends, that's the one!
---
---
Title: Tumbleweeds
Author: Leila Meacham
Call # FIC MEA
Reviewer: Anne Keller
If you pay attention to the reviews on Amazon, you'll miss out on one great reading opportunity. Cathy Benson is 11 years old when she is orphaned and forced to live with her grandmother in Kersey, TX which is a far cry from her privileged upbringing. Here she meets John Caldwell and Trey Don Hall where they form a lifetime friendship and love triangle. John and Trey are the hero football players that the town worships. Everyone knows the trio because they are all best friends. They have their futures mapped out, but of course, things don't go according to plan. The novel follows them through their adult years as tragedy and misunderstandings have dire consequences.
The reader will fall in love with the characters and will be desperate to see how it turns out. Don't let the thickness of the book scare you off. You'll wish it were even longer. If you loved this novel, check out her other book entitled Roses. We own both on audio CD which is perfect for a very long drive in your car.
---
by Mary Kay Andrews
Fic/And
reviewed by Gayle Hazelbaker
---
Reviewer: Gayle Hazelbaker
---
Title: Golden Boy
Author: Abigail Tarttelin
Call #: FIC TAR
Reviewer: Anne Keller
Max Walker is an attractive, smart and athletic 16 year old who is popular and the "golden boy." Appearances are deceiving because Max has a secret. He is intersex. His family has been protecting his secret his entire life. An earth shattering betrayal and horrific act of violence against Max threatens his secret and his family's desire to protect him. The aftermath of his stituation only adds complications in which tough choices and hard decisions are made.
This novel is one of the most provocative, jaw-dropping, shocking, and educational books I've had the pleasure of reading over the course of one day. I'll be anxiously awaiting this author's next novel.
---
Delilah Drummond, socialite and femme fatale, has caused one too many scandals and is "exiled" by her family to Kenya to sit out the aftermath of her latest escapade. When she steps off the train in Nairobi, she stumbles straight into the arms of J. Ryder White. But Delilah is too busy to continue her promiscuous life style to notice the beauty of the country or the helping hand Ryder continuously and patiently extends to her. When a murder happens and everything around her goes up in flames, Delilah realizes that it is not the world around her that has to adapt to her, but quite the other way around....
I loved this book the minute I started to read it. Set in the 1920s, Ms. Raybourn captures the eccentricities of a High Society socialite just perfectly. Once Delilah sets food on African soil, I was truly captured. Reading this book is like watching "Out of Africa". The author describes scenery, plants, scents so clearly, I thought I could hear the lions roar and the hyenas cackle. I clearly saw the pictures in my head. I just loved the ending, especially the very last page. Nicely done!
This book is the perfect summer read. Reading it will take you on vacation right from the comfort of your home (without the hazzle of packing and driving to the airport).
I love Deanna Raybourn's writing. Don't miss her "Lady Julia"-Mystery series!
---
Title: The Year 1000
Author: Rober Lacey
Call #: 942.01 LAC
Reviewer: Sonja Downey
This book is a gem for all history buffs. The author uses the "Julius Work Calendar", a document of the period describing chores, festivities and daily life on a month to month basis, to portray life in England in the year 1000.
I loved reading this book and infrequently chuckled when all-important questions were discussed, such as: Did they swear in the year 1000? (Mildly and in Latin, the harsher words came much later...). This book was very informative and at the same time very entertaining.
---
---
Reviewer: Gayle Hazelbaker
---
Reviewer: Gayle Hazelbaker
---
Reviewer: Sonja Downey
---
These are the memoirs of Jennifer Worth who was a nurse and midwife in the 1950's in the harsh and unforgiving tenements of London's East End. This book reads like a novel. It is gripping and the stories are so very poignant, the characters will stay with you forever, such as the Spanish mother who delivers her 25th baby and does not speak a word of English, or the clumsy but loveable nurse "Chummy" who is trying so hard to fit in. The author paints a fascinating picture of an important time in history.
"Call the midwife" was made into a television series by the BBC and recently aired on PBS. It can be watched online and just like "Downton Abbey" it had me hooked to the screen after only a few minutes. The tv show keeps close to the book and is a delight to watch.
TDL also owns the compendium book to the television series, "The Life and Times of Call the Midwife" by Heidi Thomas (Call # 791.4572 THO)
---
Title: Forgotten Bookmarks
Author: Michael Popek
Call #: 790.132 POP
Reviewer: Sonja Downey
This book is a treasure. I opened it up and got instantly caught in all the different items that people leave in books. Left-behind letters were especially interesting to read as they made me wonder about the person who wrote them way back when and the recipient who used it as a book mark. A wonderful book!
---
---
Reviewer: Gayle Hazelbaker
---
---
Erdrich has written another winner. In fact, it won the National Book Award this year. This is a tale of a Native American Family on a reservation. A hate crime is committed. Because the victim does not remember exactly where the crime was committed, law enforcement officials do not know under whose jurisdiction, (tribal, county or state) the crime should be investigated. A thirteen year old boy and his buddies take on the task of bringing the perpetrator to justice. The mystery here is not so much 'who did it', but how that person will be brought to justice. Told through the voice of the 13 yr. old, this book illuminates the harsh realities of life in a community where Ojibwe and whites live uneasily together. It is by turns comic and tragic. The characters and their story stay with you long after the last word is read.
---
Title: Killing Lincoln
Author: Bill O'Reilly
Call No: 973.7098 ORE
Reviewer: Lorrie Parker
---
Title: Grace Grows
Author: Shelle Sumners
Call #: Fic SUM
Reviewer: Anne Keller
I was totally not expecting to like this book based on two reasons. First, the title is very unappealing and generic. Secondly, I thought the cover was boring despite having two dogs on the cover. And I'm a huge dog lover. I was pleasantly surprised to find I loved this book. Grace lives in New York City as a book editor of school textbooks. She is engaged to an attorney who is steady and reliable. Her entire life has been made up of sensible choices. Until she meets Tyler Wilkie, a struggling musician and dog walker. He is fresh in town with warm eyes and a country drawl that throws Grace for a loop. This romance has just the right amount of humor, romance and suspense.
---
This book is truly a gem. In a very tender and sensitive way, the author follows his mother's illness from the day of being diagnosed with pancreatic cancer, through numerous chemo therapies until the day she lost her brave fight with the hideous disease. Throughout their journey they read books together and create their own two-member book club.
It was very interesting to read about all the different titles Will and Mary Ann read together and to find out about their different interpretations depending on what stage they were in during their fight with the disease. I enjoyed revisiting titles I have read already and I am looking forward to pick up books I have not read yet, but that sounded so very interesting when the author and his mother discussed them.
This audio book is wonderfully read by Jeff Harding, a personal friend of the family.
---
Title: Let's Pretend This Never Happened
Author: Jenny Lawson
Call# 921 LAW
Reviewer: Anne Keller
If you thought your childhood was crazy, think again. Jenny Lawson had a redneck upbringing in a crazy but loving family with her dad being at the center of it all. He was a taxidermist who often brought his work home with him. In the first chapter, Jenny has a sample list of ten things she bets never happened to you growing up. Here are some of them: 1) Most people have never stood inside a dead animal. 2) Most people don't have poisonous tap water in their house. 3) Most people don't have live raccoons in the house. 4) Most people don't go out in the woods to catch armadillos so that their father can professionally race them. 5) Most people don't have their childhood pets eaten by homeless people. 6) Most people don't file wild animals. 7) Most people have not spent an entire year in therapy based on a 10 minute episode in their life. For a full explanation of this list, please read the book. You will be laughing so hard you may even cry. And that's only the first few chapters!
---
---
---
Author: RoseMarie Terenzio
Call #: 973.922 TER
Reviewer: Anne Keller
This story chronicles the five years that Rose Marie Terenzio worked as an executive assistant to John F. Kennedy Jr. during the George Magazine years. Rose is from a blue collar family from the Bronx and forms an unlikely friendship with Kennedy. Their working relationship has highs and lows and Kennedy is portrayed in a different light than the public once percieved him. The man behind the icon is presented as patient, loyal, protective, sometimes thoughtless and self involved, yet also extremely generous at times. She chronicles the struggles to keep George magazine afloat, her friendship with Caroline Bessette, the paparazzi and the public's infatuation with John to the ultimate tragedy that left a nation grief stricken.
---
This story is one of my favorite Christmas children's books of all time! I just added a DVD version of the story to the Children's DVD Collection and it is as wonderful as the book!
When seven-year-old Thomas loses the wooden nativity set that links him to his beloved deceased father, his mother persuades a reclusive gruff woodcarver, Jonathan Toomey, to carve replacement figures for a Christmas creche. As Christmas approaches and the boy demands more, will the gift be finished in time?
The story, in both words and on film, reveals itself slowly and quietly as it travels to a poignant ending. Truly, a lovely story of love, redemption, and hope,
---
One of this year's Michigan Notable Books is InStitches, the memoir of Doctor Anthony Youn. He's a graduate of Michigan State University's College of Human Medicine with a plastic surgery practice in Troy.
Youn grew up in Greenville, Michigan, the son of Korean parents in an otherwise all-white town.
In Stitches takes readers from his childhood through medical school and into his medical practice. Along with his book, he's gotten attention for making numerous appearances on national TV shows.
The author recently described his book to Scott Pohl on WKAR like this…."The book really is my story, about four years at the Michigan State medical school, and how it transformed me from being a glorified college kid, to becoming that guy that walks into a patient's room and they say "oh, thank God he's here." So, how does that process happen?
A lot of people watch shows like Grey's Anatomy and House, and they think they have an idea of what it's like, but most of those are not written by doctors. They're written by writers and people who have not been through it. With the book In Stitches, I really wanted to expose the underbelly, the truth of what it's like to go through medical school and to transform, once again, from that college kid to a doctor, and my medical school is at Michigan State. So, there's a lot of professors and people that students may actually recognize.
I really enjoyed this book. I found this memoir by turns touching , hilarious and provocative. Don't miss this great little gem!
---
---
I'd never read anything by Amy Bloom, but always meant to. When a friend of mine recommended Away, I thought I'd give her a try. The timing was right because I'd just finished a book and had no promising prospects on the horizon. And I'm glad I did. Wow! What a literary ride! This novel is the stuff that book clubs dream of. When her family is destroyed in a Russian pogrom, Lillian comes to America alone, determined to make her way in a new land. When word comes that her daughter, Sophie, might still be alive, Lillian embarks on an odyssey that takes her from the world of the Yiddish theater on New York's Lower East Side, to Seattle's Jazz District, and up to Alaska, along the fabled Telegraph Trail toward Siberia. By turns the story is comic and tragic. The author dazzles the reader with her brilliant use of language. My favorite technique that Bloom employs is the way she works the future of each character into the story as that person leaves the plot. It is very interesting and quite satisfying because as you read, you never need wonder what happened to someone after our heroine leaves them. I don't know if she uses this in all of her books, but it is interesting enough to make me pick up another title, just to find out.
I highly recommend this book to all adventurous readers.
---
---
Title: State of Wonder
Author: Ann Patchett
Call #: FIC PAT
Reviewer: Gayle Hazelbaker
I spent some time dancing around this novel. I was drawn to it because I know Patchett to be a magical writer. But I was reluctant to read it because it would take me to the Amazon jungle and I don't like hot sweltering weather, big spiders or snakes. However, after several months of watching other people take the book home and bring it back without complaint, I gave in. And I'm so glad I did. Yes, it was hotter than last July and filled with giant hard shelled bugs, but it didn't matter. I was hooked! A reviewer for NPR summed up the plot very nicely.
"The gist of the storyline of State of Wonder is this: Dr. Marina Singh, a 42-year-old research scientist working for a pharmaceutical company in Minnesota, is sent to Brazil to locate the remains of her deceased lab mate — a nice family guy who was himself sent into the rain forest months earlier to find another employee, the reclusive Dr. Annick Swenson. Dr. Swenson has been in the wild 10 years, working to unlock the secret to the prolonged fertility of an isolated Amazonian tribe. The women of that tribe give birth well into their 70s, and if the fertility chemical found in a rare tree bark can be distilled and made available back in the States, it will be, as Marina's deceased co-worker once said, "menstruation everlasting ... the equivalent of Lost Horizon for American ovaries." Marina is an ideal candidate for what turns out to be a female explorer tale because she's so alone: Apart from a secret tepid affair with her boss, the most profound human connection she has had for years has been the daily small talk she shared with her dead colleague. With so little to lose, Marina sets off for the Amazon..."
This wild, adventurous tale of friendship and responsibility was surprising and deeply satisfying.
---
Title: Delirium
Author: Lauren Oliver
Call #: Y Fic OLI
Reviewer: Anne Keller
Ninety five days and Lena will be safe. She's content in knowing that after the procedure, her future will be settled. The government will choose her husband and career. Ninety five days until she receives the cure for deleria, the disease of love. Everyone receives the cure at the age of 18 which renders them incapable of falling in love. The government believes the cure is the answer to lasting peace and order. They have curfews, the uncured are not allowed to associate with the opposite sex and they have nightly raids and will kill anyone breaking the laws. In ninety five days, Lean will be safe. But Lena meets a boy, and that changes everything.
---
Authors: Ellen F. Brown and John Wiley, Jr.
813 BRO
Co-author John Wiley, Jr. owns one of the largest private collections of GWTW memorabilia in the world, including every American edition of the novel and more than 700 foreign editions.
Here's an excerpt from the front cover blurb: The authors examine how a disorganized and incomplete manuscript by an unknown Southern writer was discovered by a major New York publisher and became one of the most popular, profitable, and controversial novels in literary history. At the core of the story is Mitchell's struggle to capture on paper the sights, sounds, and smells of antebellum Georgia and how she dealt with her book's stunning success."
---
Set in rural Indiana, circa 1914, tomboy PeeWee works with her adored older brother Jake. The automobile is replacing the horse and buggy and the young brother and sister run a fledgling gas station. When a tornado rips through town and tears up the defunct library, the town elders are shamed into re-opening it. Irene Ridpath and three of her sorority sisters fresh out of library school arrive and set the small town on its ear. Motherless PeeWee has never encountered women with such sophistication, and she begins to re-examine her own femininity. Jake is determined to win a rough and tumble automobile race, but when he is injured, PeeWee jumps in and finishes the event. Peck is a master at creating enchanting characters—even his dead librarian has personality. The setting is vivid—listeners can almost hear the sound of those first automobiles chugging up the road. Narrator Lara Everly brings the story to life with great charm. Listeners will enjoy this well-done audiobook that weaves in facts about rural life in the early 20th century, feminism, and automobile history
---
This is a true story about how one man (Sam Brower) spent seven years investigating the FDLS church and how he along with many others finally brought down Warren Jeffs who was the head of the church.
You receive a indepth history to the FDLS church and many of its controversial beliefs. This title will not be for everyone due to its many graphic descriptions of abuse, but it does show the remarkable spirit of how one man, who did not back down from threats or danger to bring justice for numerous children and adults alike.
---
Welcome to the world of the American Pickers! This is the #1 show on the History Channel currently and it is amazing what Mike Wolfe and Frank Fritz find traveling on the back roads of America. The definition of a picker is someone who looks for a piece of the past. It doesn't matter to them if the item is stained, rusted and looks like it should be in a junkyard. To them the "pick" is priceless and they just have to have it. Sometimes they will fix up their "pick" and sell it to someone, but other times the "pick" will remain for their own private collections.
I was pretty excited to start reading this book, but at the end I was a little disappointed. The book is really a guide on how to start picking on your own. Mike and Frank really do give out good, solid advice on how to start, but I just wish there were more stories on the places they have gone and the people they met while on the road. Oh well, I guess that's what the TV show is for. Still this was a pleasant read and as the title indicates, it is a guide, not a travelogue.
---
Title: When She Woke
Author: Hilary Jordan
Call # FIC JOR
Reviewer: Anne Keller
Hannah Payne's life has been devoted to church and family. While working at her church, she has an affair with her minister and becomes pregnant. She decides to have an abortion even though abortion is now illegal. She's caught and convicted of murder. After conviction, she awakens to her new skin color- red. Hannah is now a chrome- a criminal whose skin color has been genetically altered to match the class of their crime. This tale closely resembles the Scarlet Letter even though it is told in a future United States. The chromes are free from prison to live life normally but society treats them as outcasts and many don't survive. Hannah is taken to a halfway house to live but the sameness and strictness are too much to bare and Hannah leaves. On the outside, she's turned away by her family and eventually escapes to an uncertain future.
---
Set in New York City in 1938, Rules of Civility tells the story of a watershed year in the life of an uncompromising twenty-five-year- old named Katey Kontent. Armed with little more than a formidable intellect, a bracing wit, and her own brand of cool nerve, Katey embarks on a journey from a Wall Street secretarial pool through the upper echelons of New York society in search of a brighter future.

The story opens on New Year's Eve in a Greenwich Village jazz bar, where Katey and her boardinghouse roommate Eve happen to meet Tinker Grey, a handsome banker with royal blue eyes and a ready smile. This chance encounter and its startling consequences cast Katey off her current course, but end up providing her unexpected access to the rarified offices of Conde Nast and a glittering new social circle. Befriended in turn by a shy, principled multimillionaire, an Upper East Side ne'er-do-well, and a single-minded widow who is ahead of her times, Katey has the chance to experience first hand the poise secured by wealth and station, but also the aspirations, envy, disloyalty, and desires that reside just below the surface. Even as she waits for circumstances to bring Tinker back into her orbit, she will learn how individual choices become the means by which life crystallizes loss.
This enjoyable erudite debut novel has the feel of a Fitzgerald story. In fact, as I was reading it, I half expected him or Zelda to show up in the pages. Highly recommended.
---
Title: This Time Together: Laughter and Reflection
Author: Carol Burnett
CD 921 BUR (A Talking Book)
Read By The Author

Reviewer: Mary Beth Reasoner, Children's Services Librarian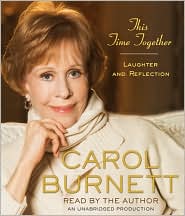 When my husband and I traveled to Tennessee for vacation recently, we listened to Carol Burnett's memoir, This Time Together, and enjoyed it very much. I grew up watching her variety show every Saturday night, and it was fascinating to hear how the show was created and her cast members were selected. She also tells stories about her childhood and upbringing as well as her rise in show business. She shares remembrances, both hilarious and heartbreaking, about Garry Moore, Harvey Korman, Tim Conway, Vicki Lawrence, Jim Nabors, Jimmy Stewart, television executives, her infamous Tarzan yell, her washerwoman character who closed each show, and the death of her daughter. She includes fond memories of her Q&A interactions with her audiences, which opened every show. The best thing about this Talking Book on five compact discs is that the listeners feel as if Carol is talking directly to them, friend to friend.


Title: My Lucky Life In and Out of Show Business

Author: Dick Van Dyke
LP FIC 921 VAN (A Large Print Book)
Reviewer: Mary Beth Reasoner, Children's Services Librarian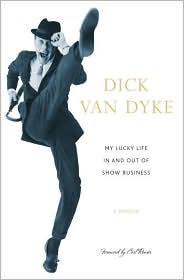 On this same vacation, I read Dick Van Dyke's biography, My Lucky Life In And Out of Show Business. His TV show was another favorite in my family's home, and I loved him in the movies Bye Bye Birdie and in Mary Poppins, as Bert the chimney sweep. His memoir covers his childhood and family life, and his careers as a radio announcer, a song-and-dance man, a Broadway star, a movie star, and a major star of his own television show during the early 1960's, as well as his performances later in life. He reminisces about Carl Reiner, Mary Tyler Moore, Rose Marie, Morey Amsterdam, and Richard Deacon, as well as Julie Andrews. It is always fun to hear the stories about how TV shows and movies are made and the backstage experiences. Dick Van Dyke's life has been filled with both joys and sorrows, just like everyone's. He considers himself a lucky man, having had a wonderful career doing what he loves as well as a beloved extended family. He continues his lifelong passion to entertain and still performs for delighted audiences.
---
Title: Buried Secrets
Author: Joseph Finder
Call #: FIC FIN
Reviewer: Gayle Hazelbaker
"Private spy" Nick Heller is back, in his second adventure, finding himself in the middle of a life-or-death situation that's both high-profile and intensely personal. Nick has returned to his old home town of Boston to set up his own shop. There he's urgently summoned by an old family friend. Hedge fund titan Marshall Marcus desperately needs Nick's help. His teenaged daughter, Alexandra, has just been kidnapped. Her abduction was clearly a sophisticated, professional job, done with extraordinary precision, leaving no trace evidence. Alexandra, whom Nick has known since she was an infant, is now buried alive, held prisoner in an underground crypt, a camera trained on her, her suffering streaming live over the internet for all to see. What the kidnappers want, Marcus either can't or won't give them. So it is up to Nick to save her.
This was a thrilling novel. So full of suspense and impossible twists that I could barely put it down. When I wasn't reading it, I was thinking about it. I was consumed! Highly recommended.
---
Title: A Week at the Airport
Author: Alain de Botton
Call #: 387.7360 DEB
Reviewer: Sonja Downey
---
Title: Bath Tangle
Author: Georgette Heyer
Call #: FIC HEY
Reviewer: Sonja Downey
Lady Serena, spirited and willful daughter of the Earl of Spenborough, is shocked beyond measure, when she finds out that upon his death - which occurred rather sudden in the form of a chill - her beloved father decreed in his will, that Sir Ivo, Marquis of Rotherham and scoundrel beyond measure, will henceforth be the trustee of Serena's fortune. She can only gain control of her inheritance through marriage which has to be approved by the Marquis, the only problem with that being, that Serena and Ivo were once betrothed and Serena knows that Ivo will do his utmost to boycott every marriage proposal coming her way.
Serena's stepmother, Fanny – five years her junior and quite unable to live without the Earl's guiding hand – is more of a hindrance than help to her and soon Serena finds herself hopelessly entangled in a knot of fake proposals, true feelings and questionable decisions. Things come to a head when Sir Ivo, his patience sorely tried, decides to put in an appearance in Bath to straighten out the mess.
This is one of my favorite books by Georgette Heyer. I have just reread it for the eighth time and – once again – enjoyed it immensely. The plot is so funny and the characters so witty that one can't help but laugh out loud at times and feel truly sorry for poor Sir Ivo who seems to be the only level-headed person in all of Bath. This is one of the best historical romances ever written.


---
Title: The Private World of Georgette Heyer
Author: Jane Aiken Hodge
Call #: 921 HEY
Reviewer: Sonja Downey
---
Author: Gayle Lynds
Call #: FIC LYN
Reviewer: Gayle Hazelbaker
They form a cabal of the globe's most powerful men – men who will do anything to achieve their aims and protect their interests. When the CIA discovers a connection between the legendary library and a bank account linked to terrorists, they turn to rare books curator Eva Blake for help.
Soon an attempt is made on Eva's life. Determined not only to survive but to uncover the truth, Eva turns to the only person she can trust—Judd Ryder, a former intelligence agent with his own agenda and a troubled past. Together, Judd and Eva embark on an international adventure from London to Rome, Istanbul, and Athens. Somehow they must do what no one else has been able to do – find the library and stay alive.
---
Title: Miss Peregrine's Home for Peculiar Children
Author: Ransom Riggs
Call # Y FIC RIG
Reviewer: Anne Keller
Jacob has an eccentric grandfather. His grandpa is always telling him tales about an orphanage he stayed at during WWII. Jacob listens to his grandfather's accounts of the peculiar children that lived at the orphanage. There are tall tales of girls that levitate, invisible children and even a bee boy. As Jacob grows older, he begins to doubt his grandpa's tales despite discovering some vintage photographs that seem to support his grandfather's stories. When his grandpa dies under mysterious circumstances, Jacob ventures to discover the truth once and for all by actually visiting the orphanage. What he discovers is more than he ever expected.
The bonus feature of this book is the vintage photographs that add a whole new dimension to the book. The author collects old and mysterious photos and many are published in this book. If you're looking for a radically different read that is receiving all types of praise, then I highly recommend this story that this reader couldn't stop reading.
---
---
Author: Marisa de los Santos
Call #: FIC/DEL
Reviewer: Gayle Hazelbaker
---
Title: The Pioneer Woman: Black Heels to Tractor Wheels
Author: Ree Drummond
Call #: 921 DRU
Reviewed by Anne Keller
If you love cowboys and a good old fashioned love story, then The Pioneer Woman is the perfect choice. Don't be fooled by the awful book cover because it's quite deceiving. The cover alludes to a little house on the prairie type setting but it is actually modern day. Ree is city girl who lived in Los Angeles and was home in Oklahoma before moving to Chicago. A chance encounter at a bar would alter her life forever. Her cowboy, who she calls Marlboro Man, would sweep her off her feet in an unforgettable romance that storybooks are made of. Ree's romance with Marlboro Man is chronicled with humor, sadness, and funny moments along the way leaving the reader yearning for their own Marlboro Man.
---
Title: Night Road
Author: Kristin Hannah
Call # FIC HAN
Reviewer: Anne Keller
Jude Farraday is an overprotective mother who constantly worries about her twins Mia and Zach. Zach is the outgoing, popular boy while Mia is the shy girl. Lexi is a foster child with a hard upbringing who recently moved in with her great aunt. Lexi befriends Mia and soon the three become inseperable. Zach and Lexie fall in love and sadness fills the air as Mia and Zach will be leaving for college. A tragic event shatters everyone's world where nothing will ever be the same again. Kristin Hannah tells this emotional story with enough twists and turns to keep the reader wondering how this family will ever recover. This was the first Hannah novel I have ever read and it is sure not to be my last.
---
Title: Save Me
Author: Lisa Scottoline
Call #: FIC SCO
Reviewer: Anne Keller
Suburban mom Rose is forced to make a split-second decision after an explosion goes off in the school cafeteria in which she volunteers. Should she rescue her own daughter, Melly, trapped in the bathroom, or lead the girls standing in front of her, who constantly bully her daughter, to safety? At first cast as a hero, the town eventually turns on her when her actions are revealed. Her choice reverberates throughout the little town as she is cast as the villain by the local news anchor, parents, and the school. While her attorney and husband construct a defense plan that includes filing a lawsuit against the school, Rose investigates what actually started the fire. Although the novel is slightly farfetched, the suspense and pace will keep most readers reading until the satisfying conclusion.
---
Title: The Company We Keep
Call #: 327.127 BEA
Reviewer: Gayle Hazelbaker
A huge fan of spy novels, movies and TV shows, I was psyched for this book. However, I quickly learned the reality of being a spy is not as glamorous as the film makers would have you believe. Told in diary style entries, Bob and Dayna discuss the murky world of the CIA in this candid memoir. They emotionally connect the dots of fast-moving and sometimes frightening intelligence operations. Stories I've read about in newspapers are given a human element that I never thought of before. In between the tedium of surveillance, the reader learns how these two found each other. A fascinating look at a world that exists almost completely off the radar.
---
Title: Anyone but you
Author: Jennifer Crusie
Call-#: CD-FIC CRU
Reviewer: Sonja Downey
Nina Askew, recently divorced and on the brink of turning 40, needs a companion. She is thinking of a playful, perky and happy little puppy. Instead she ends up with.... Fred! Fred is a sad, smelly and slightly suicidal hound, whose gratitude to Nina for adopting him knows no slobbery bounds. And then Fred makes the acquaintance of a handsome ER doctor and sets in motion a series of events, that shake Nina's world.
This is a very cute romance. If you liked Marley - from John Grogan's novel "Marley and Me" - you will love Fred. His antics are laugh-out-loud funny and make this novels a delight to listen to.
---
Reviewed by: Gina Walmsley
The author is on a quest to find the world of Laura Ingalls Wilder, the beloved author of the Little House on the Prairie. She traces the the pioneer journey of the Ingalls family-looking for the Big Woods among the medium trees in Wisconsin, wading in Plum Creek, and enduring a hailstorm in South Dakota. She immerses herself in all things Little House-exploring the story from fact to fiction, and from TV shows to the annual summer pageants in Laura's hometowns. Whether she's churning butter in her apartment or sitting in a replica log cabin, McClure is always in pursuit of "the Laura experience." Along the way she comes to understand how Wilder's life and work have shaped our ideas about girlhood and the American West.
This was just an outstanding book from start to finish. I adore all the Little House Books and was quite surprised to find out things I never knew about Laura Ingalls Wilder. The author writes in an easy-to-read style and she gets herself in an especially funny situation when she attends a homesteading weekend with an interesting church group. Her many attempts to try and replicate pioneer cooking is also just a hoot. Who knew you could churn butter in an apartment in Chicago! This was a delightful read and I would recommend it to anyone who has fond memories of the Little House books.
---
Title: If you ask me (and of course you don't)
Author: Betty White
Call #: CD 921 WHI
Reviewer: Sonja Downey
In short and concise little chapters acclaimed actress Betty White tells scenes from her prolific life, tinged with wisdoms, humor and nostalgia.
This Audio Book was very enjoyable. It is very short (only 2 CD's) and since it is read by Betty White herself, it felt to me more like having coffee with Betty right there at the table chatting away.
---
Title: Secrets of Eden
Author: Chris Bohjalian
Call #: CD-FIC BOH
Reviewer: Sonja Downey
The murder of Alice Hayward throws the Reverend Stephen Drew into a deep crisis of faith. Only hours before her husband strangles her and then shoots himself, Stephen agreed to baptize her. Now he thinks that Alice knew that her husband would kill her and wanted to prepare herself. Stephen flees the pulpit and finds solace in the arms of acclaimed spiritual author Heather Laurent.
But to the state attorney the case does not look like just a murder-suicide and an investigation is started during the course of which it turns out that Alice harbored quite a few secrets of her own...
This was a stunning story. Brilliantly performed by a cast of 4, this book will leave you breathless to the very last page, infact to the very last sentence. It is in parts quite graphic, but I found that I wanted to know these details to dive deeper into the characters' depths. This is one of those stories that will stay with you long after you finished listening.
---
Title: Why? Because We Still Like You: An Oral History of the Mickey Mouse Club
Author: Jennifer Armstrong
MelCat Interloan

Reviewer: Mary Beth Reasoner, Children's Services Librarian
The Mickey Mouse Club television show is a vivid part of my childhood memories; my mom still has the 45 rpm record with the theme song on it at her home! So I took advantage of our fantastic interlibrary loan system and requested the newest history of the program through MelCat, the Michigan Electronic Library Catalog, via the library's web page. The show made such an impact on Baby Boomers that it hard to believe that the original show was on the air for only three years, from 1955 to 1957.

The book discusses how the show was created and developed and revamped as the "Mice" grew from preteens into adolescents. Did you know that Walt Disney pitched the show idea to ABC solely to raise money and awareness for his new theme park, Disneyland? Stories about Walt Disney, the various directors, crew members, on-set teacher, and parents are included, as well as lively descriptions of the on-air adult stars, Jimmy Dodd and Roy Williams. The reader gets to know most of the Mouseketeers, both the lesser known kids as well as Annette, Bobby, Lonnie, Cubby, Karen, Doreen, Cheryl, and Sharon. There are "behind the scenes" descriptions of what it was really like to be a child star, unexplained firings, off-camera mischief, endless rehearsals and publicity appearances, personality conflicts and professional jealousy. The updates concerning the adult lives of the Mouseketeers are tinged with sadness as illnesses, divorces, professional career failures, and prison records are revealed. Even so, I did enjoy getting a backstage glance of one of my favorite childhood television shows. For more information, visit the Original Mickey Mouse Club Show website at http://www.originalmmc.com/.
---
Title: Juliet
Author: Anne Fortier
Call #: FIC FOR
Reviewer: Sonja Downey
I enjoyed this book immensely. It is two stories in one, telling the mystery about Julie finding her true identity and the most tragic love story of all, that of Romeo and Juliet putting a slightly different spin on the story as we know it from Master Shakespeare. I loved this book, because it had a little bit of everything, mystery, ancient curses, a love story and most importantly of all the most amazing setting in the world: Italy.
---
Title: Assault with a deadly glue gun
Author: Lois Winston
Call #: X FIC WIN
Reviewer: Gina Walmsley
When Anastacia Pollack's gambling-addicted husband permanently cashes in his chips in Vegas, she is left with two teenage sons, a mountain of debt, a Communist, cane-wielding mother-in-law, and a loan shark demanding fifty thousand dollars. If her life could get worse, it does when she discovers the ambitious Maryls Vanderburg hot glued to her office chair. When evidence surfaces of an illict affair between Maryls and Anastacia's husband, Anastacia becomes the prime suspect. Can she sew up the case and keep herself ot of jail before the real killer puts a permanent end to her investigation?
This was an incredibly, funny story with the author putting Anastacia in one hilarious incident after another. At first it seemed a bit over the top, but the more I read, the more I laughed. From Anastacia's parrot Ralph who quotes William Shakespeare to her mother-in-law's dog named Manifesto, the laughs continue on to the end. This is just a funny read that will provide a smile from beginning to end. The only sad thing is that we will have to wait until 2012 for the next installment of Anastacia.
---
Call #: 921 BOL (currently on the New Shelf)
Reviewer: Sonja Downey
---
---
Title: It is well with my soul: the extraordinary life of a 106- year old woman
Author: Ella Mae Cheeks Johnson with Patricia Mulcahy
Call #: 921 Joh (New Adult Nonfiction)
Reviewer: Chuck Harpst
---
Title: Chile death
Author: Susan wittig Albert
Call #: X FIC ALB
Reviewer: Gina Walmsley
China Bayles is looking forward to the annual chili cook-off in Pecan Springs, Texas. And when the event arrives, she takes along her fiance, giving both of them a nice break from China's visiting (i.e. meddling) mother. But then cook-off judge Jerry Jeff Cody dies of an allergic reaction to a peanut. Everyone knows peanuts do not belong in a bowl of Texas chili and China knows something suspicious is afoot.
I am still surprised by this author who after writing many books in this series (this one is the seventh), she can still keep things fresh. The characters are well developed, and the town of Pecan Springs seems so enchanting. Sprinkled throughout the book are interesting tidbits about chile peppers and the spices used in chili. But remember, real Texas chili does not have beans. This is truly a nice easy read and a fascinating series.
---
Title: THE HAMMERSTEINS: A MUSICAL THEATRE FAMILY
Author: Oscar Andrew Hammerstein
Call #: 782.1 HAM (Adult Non-fiction Collection)
Reviewer: Mary Beth Reasoner, Children's Services Librarian
As a lifelong fan of Broadway musicals, I thoroughly enjoyed reading this new history of musical theatre.The first part of the book sets the foundation as it covers the life and career of the first Oscar Hammerstein, a successful cigar merchant, an architect of a wide variety of theatre buildings which turned Times Square into the theatre capital of the world, and an opera lover.Overflowing with the backstage politics of producing theatre and dealing with talented and not-so-talented stars, it also details the personal and professional foibles of Oscar I and his competitors.
The stories of his grandson, Oscar Hammerstein II, a brilliant lyricist, and his collaborations with Jerome Kern, Florenz Ziegfield, and Richard Rodgers are filled with the back stories of SHOWBOAT, OKLAHOMA!, SOUTH PACIFIC, CAROUSEL, THE KING AND I, and THE SOUND OF MUSIC as well as sagas of their unsuccessful productions, and personal tragedies and family scandals.
The book itself is beautifully presented, truly overflowing with family photos, publicity shots, illustrations, theatre blueprints, broadsides, programs, playbills, covers of sheet music and lyrics on almost every page.I found myself singing so many of the now classic songs just at the mention of their titles.This is a fascinating book for anyone interested in the history of musical theatre in America!
---
Title: Zero Regrets
Author: Apolo Ohno
Call #: CD 796.914 OHN
Reviewer: Anne Keller
Apolo Ohno is the most decorated winter Olympic athlete in U.S. history. Over three consecutive winter Olympics, Ohno defines the true athletic spirit in victory and defeat. His memoir takes the reader (or listener as Ohno narrates) inside the competive world of short track ice racing. Short track is fiercely competitive and utterly unpredictable. Apolo details all three Olympic journeys and the training and nutrition involved in preparation. He recounts his experience on the Dancing With the Stars in which he ultimatley won with partner Julianne Hough. He also shares the love for his father, whose support and love guided Apolo on his journey forward. The last chapters of the book detail his insane training regime in preparation for the Vancouver Olympics. Truly, Apolo Anton Ohno is living a life with zero regrets.
---
Title: High Plains Tango
Author: Robert James Waller
Call #: FIC WAL
Reviewer: Sonja Downey
This book is part of the "Bridges of Madison County"-Trilogie. It features the story of Carlisle McMillan, a drifter and divine carpenter searching for a place of quiet and solitude. The little town of Salamander seems to offer what he is looking for. He settles down and takes his time restoring an old barn into the home of his dreams. But the peace and quiet is treacherous and when everything that he built with his own hands' labor is threatened to be destroyed, Carlisle must decide if he should fight or quietly stand aside.
Robert Waller's stories are gentle, quiet and full of beauty. He evolves his characters so masterfully, that they become dear friends. His style of writing and choice of words is hauntingly beautiful and his stories will stay with you long after you finished his books.
---
Title: The Mischief of the Mistletoe
Author: Lauren Willig
Call #: FIC WIL (currently on the new shelf)
Reviewer: Sonja Downey
It all started with a wonderful, brown, round, aromatic Christmas Pudding which was carelessly left in Miss Climpson's Select Seminary for Young Ladies. The message "Meet me at Farley Castle" - written in French - sets in motion a chain of events that will drastically change the lives of school mistress Arabella Dempsey and clutzy Reginald "Turnip" Fitzhugh. Upon their shoulders lies the fate of all England. Will they see beyond the pudding and stop Napoleon from invading?
This book features the characters from the author's "Pink Carnation"-series. The humor and wit in this story is beyond funny. At times I just had to laugh out loud. The author's play with words is absolutely ingenious. I was so enthralled with this book, that I started the "Pink Carnation"-series and it is every bit as funny and beautiful as I expected it to be after reading this delightful book.
---
Title: Savannah Blues
Author: Mary Kay Andrews
Call # FIC AND
Reviewer: Gayle Hazelbaker
When widowed American food writer Maggie McElroy is hit by a paternity claim against her husband's estate, she has to go to China immediately. She asks her

magazine

for time off. They counter with an assignment: to profile rising culinary star Sam Liang.

This is the first work of fiction ever excerpted by Gourmet Magazine.

Mones effortlessly weaves together a fast-paced romantic plot with precepts from ancient Chinese food culture.

Both entertaining and learned, this book might be the perfect read! It will leave you hungry for good chinese food--at least it did me!
---
Author: Richard Paul Evans
Call #: FIC EVA
Reviewer: Anne Keller
Eric is a grown man as he reflects back to the year he met Grace. His family has just moved from California to Utah and Eric and his little brother adjust in the midst of the Cuban Missle Crisis, their overworked mother and their father's illness. Grace is a classmate of Eric's and he discovers her going thru the dumpster after his shift at the burger joint. Grace ran away from home and Eric lets Grace stay in his clubhouse on their property. Their friendship blossoms which leads to love.
Grace becomes Eric's first love who teaches him more about life than anyone else. Will they end up together? Why did Grace runaway and what secret is she hiding? Will there be a fairy tale ending or will tragedy strike? This is another story told in true Evans fashion that this reader won't soon forget.
---
Set in New York City, this atmospheric novel is one in a series featuring private investigators Lydia Chin and Bill Smith. Although part of a series, you don't need to read them in order. While all of the books are excellent, this one is a particular favorite of mine. When his nephew Gary is arrested in the city and then escapes, Bill Smith along with his partner, Lydia Chin, sets out to find him. They end up in a small New Jersey town full of dark secrets, some belonging to Bill. This character driven mystery was very suspenseful. I couldn't put it down until I reached the satisfying conclusion. I highly recommend the entire series.

?xml:namespace>
---
Title: The Long Run
Author: Matt Long
Call # CD 921 LON
Reviewer: Anne Keller
Matt Long is a firefighter for the FDNY, a runner and ironman. He's an athlete, at the top of his game and in the best physical shape of his life. He's completed ironman competitions and ran the NYC Marathon with a respectable time which qualified his for the Boston Marathon. While out biking, he's hit by a 20 ton bus that almost ends his life. At the ER, doctors give him a 5% chance of living. Miraculously, 40 operations and months later, Matt is able to begin his long journey to recovery. Matt's rehabilitation is honest, raw, and emotional. He sets a goal of running the NYC marathon again. Will Matt achieve his goal?
---
Title: The Weekend
Author: Bernhard Schlink
Call #: FIC SCH
(currently on the New Fiction Shelf)
Reviewer: Sonja Downey
After 24 years in a high-security prison, Joerg, a former member of the notorious Baader-Meinhof terrorist group, is pardoned and released. His devoted sister is afraid for his safety and rents a secluded house deep in the woods. To celebrate Joerg's return to freedom, she invites all his former friends to the house to spent the weekend. Among this illustrous crowd of people is the man who betrayed Joerg to the police and there is Marko, a young man who is intend on convincing Joerg to keep fighting for the cause.
This book reads like a movie script. Bernhard Schlink, author of "The Reader" is capturing the atmosphere in this house so perfectly and so vividly, that I was drawn into the story as if I was part of the group gathering at that house. This is a book you won't be able to put down.
---
Title: Room
Author: Emma Donoghue
Call # FIC DON
Reviewer: Anne Keller
The narrator is Jack, a five year old boy who lives in a 11 ft. x 11ft. room with his mother. Jack has never left the room. His mother was nineteen years old when she was kidnapped and forced to live in a garden shed type room. They are held captive and cannot leave the room. They have a television, bathtub, sink and stove and depend on "Old Nick" for their food, heat, clothes etc. When he visits, Jack hides. Jack is five years old when his mother plans a daring attempt to escape. Will they succeed? Will Jack get to experience life in the real world? Will he get to meet his grandparents?
Donoghue does an excellent job of capturing the voice of a five year old boy as he tells his story of survival.
---
Title: Showdown
Author: Tilly Bagshawe
Call #: CD-FIC BAG
Reviewed by Anne Keller
Milly, 17, lives in England on her father's horse ranch and her love is riding horses. Enter hearthrob Bobby Cameron, 23 years old and skilled horse trainer from California to temporarily work on the farm. Bobby immediately notices Milly's talent and invites her to California to train professionally at his ranch, Highwood. Although the pair are attraced to each other, Bobby keeps his distance because he thinks Milly is still a child. When Milly's father dies, the farm is sold to Milly's nemesis, Rachel. Milly vows to buy the ranch back and enters the world of horseracing as a jockey. Milly and Bobby have a falling out and part ways even though they still love each other. Will Milly get the ranch back? Will she end up with Bobby? This novel explores the culture of horseracing and this reader was completely fascinated by the whole racing experience.
---
Title: Vanished
Author: Joseph Finder
Call # Fic Fin
Reviewed by Gayle Hazelbaker
Lauren Heller and her husband, Roger, are out to dinner one night when they're brutally attacked. Twenty-four hours later, Lauren awakes in the hospital to find that her husband has vanished without a trace. The only one who has any chance of finding him is his brother, Nick, a high-powered investigator with a private intelligence firm. Nick Heller is tough, stubborn and relentless. He is up against some pretty bad guys to find his brother. This is a thriller with a capital 'T'. Don't miss it!!
?xml:namespace>
---
Title: Sh*t My Dad Says ?xml:namespace>
Author: Justin Halpern ?xml:namespace>
Call # 818 Hal
---
Author: Eileen Cook
Call # YFIC COO
Reviewed by Anne Keller
Helen and Lauren have been best friends forever. They were born in the same hospital, one day apart. They've been together forever until 8th grade. Lauren decides she needs a fresh start in high school and frames Helen as the snitch for naming the seniors involved in the senior prank. Helen is publicly humiliated and everyone hates her. The bullying is so bad she wants to switch schools which miraculously happens when her dad is transferred. Three years pass and she looks completely different. An opportunity arises and she moves back home to complete her senior year. Her ex-best friend Lauren is at the top of the popularity chain and Helen vows revenge. Helen's carefully executed plan begins to work. This easy breezy read is full of humor and drama.
---
Title: Caught
Author: Harlan Coben
Call # FIC COB (New Adult Fiction)
Reviewer: Anne Keller
Haley McWaid is a good girl. She's a good student, captain of the lacrosse team, and has plans to attend college after graduation. Her mother is shocked to discover that she never came home one night. Three months pass without a break in the case and the community fears the worst.
Wendy Tynes is an investigative reporter who takes down sexual predators through the TV show "Caught in the Act." She catches Dan Mercer, a social worker who denies the charges despite the overwhelming evidence. When a break in Haley's case links her disappearance to Dan Mercer, the book really takes off. The novel is suspenseful with twists and turns this reader never saw coming. Coben lives up to his reputation by delivering another powerful story.
---
Author: Julie Ann Peters
Call # Y FIC PET
Reviewed by: Anne Keller
Disclaimer: If you are feeling depressed or are depressed, please don't read this book.
Daelyn has several failed suicide attempts because of the constant bullying she's endured since kindergarten. She finds a website and begins blogging about the horrific events that have led to her decision to end her life. She currently is unable to speak because she recently swallowed ammonia and bleach.
One day while waiting for her parents to pick her up, she meets Santana, a mysterious boy who has cancer and they strike up a friendship.
Daelyn's ultimate decision of whether to end her life will leave readers cheering for her recovery!
This book deals with serious subject matter. There is an excellent discussion guide at the end of the book. I commend Julie Ann Peters for tackling such a topic in a thought provoking manner.
---
Never before have I opened a book with an author's note stating "You are not mistaken as you turn to the next page and find Chapter 12." At first I thought my eyes were playing tricks on me, but really the book starts at Chapter 12. This is a bizarre thriller told in reverse of a man given the chance to go back in time in one-hour increments to prevent a vicious crime from destroying his life. In a race against time, Nick Quinn will find that friends become enemies, old loyalties are tested and his wife Julia's murder is part of a larger scheme that has its roots in greed and vengeance.
This book was one of the cleverest books that I have read in awhile. I didn't think the author could keep me engaged because I really do not like any kind of time travel stories, but this was different. This story was full of double crosses, cliffhangers and suspense that just blew me away. The ending really suprised me (and no I am not going to tell you the ending). If you are looking for a new book full of suspense, this is for you.
---
Author: Elizabeth Strout

Title: Abide with me

Call Number: FIC STR (Adult Fiction Shelf)

Reviewer: Chuck Harpst, Reference/Local History Librarian

?xml:namespace>

A congregation that had once been patient and sympathetic during the reverend's grief now questions his leadership and propriety. Anger, bitterness and gossip have started to swirl across West Annett. In Revered Caskey's darkest hour, an earth shattering discovery will test his congregation's humanity — and his own will to endure the trials that sooner or later test us all.

?xml:namespace>

I found the plot to be melancholy and depressing. The characters shed a negative light on small-town living and Christianity. All the despair and negativity made me appreciative of the good things that are in my life. ?xml:namespace>
---
Author: Tony Dungy with Nathan Whitaker

Title: Quiet strength: a novel

Call Number: 921 DUN (Adult Non-Fiction Shelf)

Reviewer: Chuck Harpst, Reference/Local History Librarian

?xml:namespace>
Tony Dungy's memoir describes his life, including personal triumphs and tragedies, football highlights, and faith. Leading the Indianapolis Colts to a Super Bowl victory during the 2006-07 season was simply a monumental event along life's pathway for him. He continuously emphasizes throughout his biography that while he enjoys football that it is ultimately just a game, which is over at the end of 60 minutes.

His passion as youth was playing football and basketball with friends in the Ann Arbor, Jackson and Lansing, Michigan areas. His parents, Wilbur and CleoMae Dungy, were both educators. During his college years, he played football at the University of Minnesota. After college graduation, he played several seasons in the NFL with the Pittsburgh Steelers and San Francisco 49ers.

After retiring from professional football as a player, he started his coaching career first with the University of Minnesota then went back to the NFL as a coach with the Steelers. He eventually became the Defensive Coordinator with the Steelers before moving on to the Kansas City Chiefs as a Defensive Backs Coach. Following his tenure with Kansas City, he moved on to a Defensive Coordinator position with the Minnesota Vikings before his first Head Coach job in 1996 with the Tampa Bay Buccaneers. After his time with the Bucs, he went on to the Indianapolis Colts where he won his first Super Bowl.

Outside of football, Dungy is involved with community organizations including Fellowship of Christian Athletes, Athletes in Action and Family First. He has five children and encourages his players and coaches to spend time with their families.

During the 2005 season, his son, Jamie, committed suicide. Dungy's decision to continue coaching football following his devastating loss was arrived through prayer.

From a historical perspective, I discovered what life was like for African Americans in Jackson during the 1960s; more importantly, Wilbur Dungy, who was an instructor at Jackson Community College, was one of the first African-American college professors in the United States.

Some of his football memories were priceless gems in the history of football, especially his remembrances about the Detroit Lions pulverizing the Buccaneers in the 1990s.

Dungy also provides excellent examples of leadership, character, wisdom, and overall outlook on life. I would recommend Quiet Strength to football fans as well as anyone interested in an outstanding book about inner peace and personal strength.

?xml:namespace>
---
---
---
---
Author: Robin Brande
Reviewer: Anne Keller
Cat is in eleventh grade and nervous to begin her science experiment. She decides to adopt a lifestyle equal to the prehistoric people. She will give up modern technologies such as the computer, cars, and the telephone, except in emergency situations. She will also adopt their diet and eat nuts, berries, and items occurring naturally in nature. Her best friend Amanda plays a hysterical supporting role and secondary characters round off a great cast. The love of her life, Matt, used to be her best friend but something happened in the seventh grade to end their friendship. The problem is that Matt doesn't even know what he did. This novel is about self discovery and how changing your lifestyle can have dramatic effects. I read this book in one sitting. I couldn't even put it down during the NFL playoffs!
---
---
Author: Chesley "Sully" Sullenberger with Jeffrey Zaslow
Title: Highest duty: my search for what really matters
Call Number: 921 SUL (New Adult Non-Fiction Shelf)
Reviewer: Chuck Harpst, Reference/Local History Librarian
It was an ordinary journey for Captain Chesley "Sully" Sullenberger, the crew and passengers aboard U.S. Airways Flight 1549. All of sudden, the plane runs into a flock of birds, the engines fails, and an emergency landing in the Hudson River becomes inevitable. Miraculously, all 155 passengers and crew members survived. There were only a handful of injuries. The amazing story of January 15, 2009, grips the nation, and Captain Sullenberger becomes an American hero.

Overall, I enjoyed learning about the extraordinary life of Captain Sullenberger, but the book is very detailed and slow moving. I even discovered that he likes onions on his enchiladas. I would have liked the book to focus more on the events of Flight 1549 and his life after the heroic landing.

If you have a passion for the military or commercial aviation, you would be captivated by the life of Captain Sullenberger.

?xml:namespace>

?xml:namespace>

?xml:namespace>

?xml:namespace>

?xml:namespace>?xml:namespace>?xml:namespace>?xml:namespace>
---
---
---
Previous Reviewed Titles
---